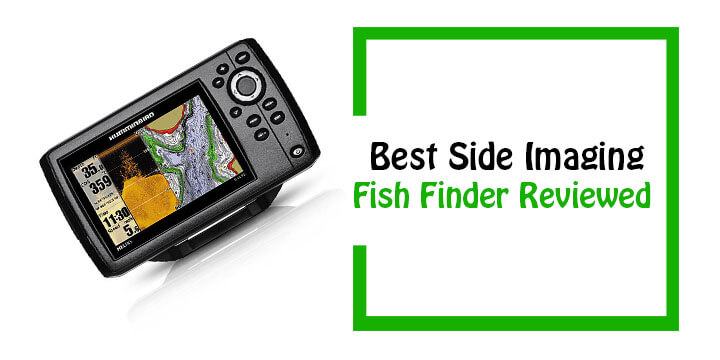 Best Side Imaging Fish Finder 2018 - Buyer's Guide and Reviews
Side imaging is one of the most advanced sonar technologies a fish finder can have. The benefits that come with this technology are vast.
First, it enables you to determine the exact location of fish and provides you with clear images of the underwater world. Second of all, it offers a wider coverage and helps you distinguish between fish and other underwater structures.
The list of benefits can go on and on. But to enjoy these benefits, you need to invest in the best fish finder with side imaging. This leads us to the question, what is the best side imaging fish finder? We have reviewed some of the best fish finders with side imaging to help you enhance your fishing experience.
5 Best Side Imaging Fish Finder for the Money in Market 2018 - Comparison Chart
Top 5 Side Imaging Fish Finder in 2018
1. Humminbird HELIX 5 SI Fish Finder (409640-1)
Humminbird HELIX 5 SI is one of the best fish finders with side imaging sonar technology. The unit comes with a noticeable amount of great features at an affordable price. It is furnished with 5-inch LED display, alongside backlight, a resolution of 480 by 800 pixels with 256-color depth. So what you get is incredibly detailed photo-like images of what is underneath the water.
The unit offers both side imaging and down imaging sonar technology. With side and down imaging, you can fish both in shallow and deeper waters. For such a cost-effective unit, Helix 5 SI boasts revolutionary imaging capabilities including Dual Bean Plus sonar. These sonar technologies help you fish effectively on the water.

In addition, the unit has built-in GPS Chartplotting with UniMap cartography. This humminbird side imaging tool makes it a breeze for anglers to navigate to and from different fishing spots. And in case you want to save your maps or waypoint, there is a Micro SD card slot.

With a whopping power output of 4,000 watts, this is one of the most powerful SI fish finders you can find. No wonder it flaunts 1,500 feet depth capacity.
2. Humminbird HELIX 5 CHIRP GPS G2 (410210-1)
It sports a 5-inch 256 color display. The display comes in a widescreen WVGA 800 by 480 matrix with a LED backlit feature. As a result, the images you get are clear and easy to read even when it is dark. In addition, it has a REFLEX interface that is very user-friendly.

What is even more intriguing about this device is its CHIRP Dual Beam Plus Sonar technology. The sonar sends 83 kHz and 200 kHz frequencies ranging from low to high. As a result, you get a wide range of data and are able to see more target fishes in crispy images.

The HELIX 5 CHIRP GPS G2 comes with integrated GPS Chart plotting feature for better navigation. You can chart your fishing journey and even keep track of your favorite spots. And with 4000 watts of power output, this device is suited for maximum depths of up-to 1500 feet.
3. Garmin Striker 7SV (010-01809-00)
Like most side imaging fish finders, Garmin Striker 7SV uses CHIRP sonar. The sonar uses multiple frequencies at the same time to provide more information that is detailed. It usually creates clearer fish arches with great target separation so you can easily find more fishing targets.

Available in 3.5", 5" and 7" display sizes, the device is easy to use. It has a simple keyed interface that boasts dedicated buttons to help you navigate through the menu. Garmin Striker 7SV also sports clearer scanning sonar for near photographic images.

If you love vertical jigging or ice fishing, you should check out this unit. It flaunts a built-in flasher that enables you to see your sonar information in the classic flasher format.
4. Humminbird HELIX 5 DI Fish Finder (409600-1)
This one is by far one of the cheapest and best side imaging fish finder we have come across. It is affordable yet it is not limited in great features. The 5 inch WVGA display with 256 color depths features 480 by 800 pixel resolution and a backlight. Thus speaking to the needs of anglers looking to see their catches clearly.
With 4000 watts of power output, this fish comes with Side Imaging Sonar. You don't only get a unit with great side sonar technology, but down imaging too. These two sonar technologies offer you clear, crispest and brightest photo-like images of everything beneath your boat.

Additionally, it sports Dual Beam Plus sonar for multiple viewing options. The unit's transducer on the other hand boasts multiple frequencies including 455/800/200/455 kHz for wider coverage area. It is therefore able to provide accurate information up to 600 depths.
5. Garmin Echomap Chirp 74SV (010-01803-01)
But what clearly sets this unit apart from the competition is the CHIRP sidevu capabilities. This technology offers you accurate and more detailed information about various activities in the boat. It also boasts clearer scanning sonar that detects and displays more targeted fishes in crispy images.

Echomap Chirp 74SV comes preloaded with U.S Lakevu HD maps, Canada lakevu HD maps and U.S Bluechart G2 charts. This is further enhanced with internal GPS (5 Hz) to help you mark and go back to waypoints easily.

Featuring Garmin QuickDraw contours software, this unit allows you to create custom maps on any water body. But you are limited to 1-foot contour lines.
Buying Guide- Things To Consider Before Buying a Side Imaging Fish Finder
The best side imaging fish finder should be one that meets you needs and preferences. It should also be easy to use and install. However, there are still some important factors to consider before making a decision on which one to buy including:
Availability of a Transducer
It is important to make sure the fish finder you buy comes with a transducer. Because if it does not, you will have to go through the hassle of buying a transducer. And in most cases you will always pay more than it would cost if it was included with the box. Fortunately, most side imaging fish finders in this review come with a transducer though. Some units on the other hand give you the option to change the transducer it comes with.
The type of boat you will be using your SI fish finder with is equally important. Most side imaging dish finders are designed to work with bass boats, motorboats or vessels similar. However, some boats may not provide the possibility of installing side imaging sonar beams. For such boats, you will need to do some modifications that might cost you a lot to be able to mount it. So before your order your SI fish finder, make sure it is mountable on your boat.
Depth range of a side imaging fish finder is very important as well. SI fish finders are mainly used to fish on shallow waters. That is why most fish finders with Side Imaging technology boasts up to 1500 depth range. But if you are planning to fish in deeper waters, you should opt for a unit with Side Imaging and Down Imaging feature.
Even for fish finders with side imaging features, display size matters a lot. A large sized-screen will do a great job at providing you with accurate and clear readings. You should also consider resolution and color of the display. A display with high resolution will allow you to see more details. Color displays with different depths on the other hand help you to understand better the bottom compositions.
Overall, all the products in this review excel in different ways. However, Humminbird HELIX 5 SI Fish Finder is our best side imaging fish finder. Its Side Imaging and Down Imaging sonar technologies are one of the factors that propelled it to the top of our list. Also, its display size is relatively large and of course the resolution does not disappoint. Offering GPS Chart plotting with output power of 4000 watts at an affordable price tag, this unit is one of the most powerful ones on the market. At the same time, if your budget can stretch, Garmin Echomap Chirp 74SV can be a great alternative. Its CHIRP sonar capabilities are one of the best in the industry.