A Review of 12 Best Bass Fishing Rods 2023 – Find Out Which One Is The Buyer's Choice
It is a known fact that finding the right fishing rod can improve your angling skills. You need to know your  tools in order to perfom best. You never know when mother nature could turn against you. For exampele, as you might be aware, bass are voracious predators. Their diminutive nature notwithstanding, the struggle of finding them is known to many. Thta is why, choosing the best bass fishing rods is therefore of high importance.
How to Make your Choice?
Generally, bass fishing rods are recommended to have at least 5 feet. That is the standard recommended length. Aside of that, you should als look at the material it was made of. For improved durability, it is best to go for ones made of graphite. Besides that, you want to make sure that the rod has a strong spline for consistent action under water.
Yet another vital consideration is whether to use a casting reel or spinning reel. This comparison arises because the rods for these two major categories have subtle differences. And though it is possible to interchange reel types, it's highly advised against. It is therefore suggested to find a rod that matches up to the equipment you use. In that way you will have a compelete equipment.
With all those factors in mind, we bring you a run-down of the twelve best rods for bass fishing. Let's see if we can better your experince of finding the best tools for fishing. In the process of building these reviews we have gathered a lot of essential details, that for sure will help you pick the best option that it is on the market.
Top 12 Best Fishing Rods for Bass Fishing on the Market 2023 – Comparison & Rating Chart
| Picture | Fishing Rods | Size | Weight | Editor's Rating |
| --- | --- | --- | --- | --- |
| | Ugly Stik Elite Spinning Rod | 4'6" – 7'6" | 0.3 – 1.2 Pounds | |
| | Ronco Pocket Fisherman | N/A | 1 Pound | |
| | Ugly Stik GX2 Casting Fishing Rod | 6'6" | 0.45 Pounds | |
| | Entsport Casting Rod Graphite Portable Baitcasting Fishing Rod | 7′ | 0.45 Pounds | |
| | PLUSINNO Fishing Rod and Reel Combos Carbon Fiber Telescopic | 1.8 -3.2 Meter | N/A | |
| | Sougayilang Fishing Rod Reel Combos Carbon Telescopic | 5.91 – 11.81 FT | 1.4-2.2 Pounds | |
| | Shakespeare Ugly Stik GX2 Spinning Rod (6-15-Pound Test) | 5.5 –  7 FT | 0.7-0.78  Pounds | |
| | Shakespeare Ugly Stik GX2 Spinning Rod (8-20-Pound Test) | 6 – 7 FT | 0.86 – 3 Pounds | |
| | Shakespeare Ugly Stik GX2 Spinning Fishing Combo | 4'8"-7′ FT | 0.7 – 1.8 Pounds | |
| | PLUSINNO Telescopic Fishing Rod | 1.8 -3.2 Meter | 0.4 -8.5 Pounds | |
| | Entsport Casting Rod Graphite Portable Baitcast Rod | 7 FT | 0.3 Pounds | |
| | Okuma Longitude Surf Graphite Rods | 12 FT | 0.11 Pounds | |
12 Best Bass Fishing Rods in 2023 – Reviews
1.Ugly Stik Elite Spinning Rod
With a rod length of 6 feet, Ugly Stik (not Ugly Stick) offers you medium fishing power. It has 5 reel bearings with a line capacity of 190/4 140/6 110/8. The poles are very flexible and limber. This creates an indestructible and highly sensitive fishing rod. That however, comes at the expense of additional weight (weight: 6-14lb). But, it's easy to point out where this extra weight comes from. As a matter of fact, that is because this unit uses 35 percent more graphite in this category, than others. This retains toughness. Toughness, which is synonymous with the manufacturer's track record of making reliable and resistent materials that can last you a life-time.
Medium Combo
At 6 feet, this unit comes out as highly effective especially when paired with a Shakespeare reel.
Being a combo means the reel and rod work seamlessly together. They marry very well in this format. It offers you an advantage by being compact.
Size and Design
If you are looking for fishing rod that you can easily travel with, this is a good choice. It is perfectly sized for portability. It is easy to store and to carry. Moreover, it is sensitive enough. It works even for catching fish in a pond by the roadside. It is one of those products that are reliable in any situation.
High Quality
This rod is made using premium cork. It is important because it helps you have an improved grip, so you will not be at risk for it to slip out your hands. Generally, it has a great feel and looks pretty high-end too.
Key Features
35 percent more graphite than its other siblings
Maintains legendary toughness for added durability
Premium cork handles
It contains stainless steel
2. Ronco Pocket Fisherman
The Ronco Pocket Fisherman is a generational thriller. Being a double-flex rod, this unit is hinged into a closed position for easy storage and transport. Once you're ready to use it, you simple need to unfold till it snaps into a completely extended position. It is that easy!
Convenient Design
This unit features an automatic reverse-proof mechanism. This prevents the handle from snapping backwards. It minimizes the chances to harm you. If you are short of space or if you live in a tiny apartment, this is definitely a nice feature to have.  You would not have storage issues with it. Generally, the problem with wooden rods consists in logistical difficulties.  However, this unit seems to have by-passed that issue and to offer easily manoeuvrable wooden rods.
Compact
It is designed to fold into halves. This is an aspect which lets it to easily fit in your glove compartment or pocket. Plus there is a mini tackle box hidden under the handle, that gives you an additional storage space .
Additional Stuff
In addition to the fishing rod, you also get two bonus lures. What's more, you don't need to carry a tackle box with you everywhere you go. For that, there's a mini tackle box provided. You may also use fishing tackle bag.
Key Features
Lightweight construction which makes it pretty easy to handle
Designed to attach to a belt
Protected by 10 year warranty
3. Shakespeare Ugly Stik GX2 Casting Rod
This is no doubt one of the best fishing rods available on the market. Made by the same company behind Ugly Stik Elite Spinning Rod, this one ugly stick is made to resist. The unit comes with significant improvements. Besides offering great aesthetics, the GX2 delivers improved dependability, strength and tradition. Its iconic clear tip delivers an extra dose of strength right when you need it.
Great Cosmetics
Despite its name, Ugly Stik GX2, this unit is ironically cute. It balances a modern look with a classic diamond wind right above the grip. Don't forget that this casting showcases a sleek matte black finish. That part is decently decorated with silver and red accents.
High Tech Construction
Features Ugly Tech construction complete with a new blank through reel seat design. One good thing with this design is that it combines fiberglass and graphite. This achieves a strong yet highly sensitive rod. This offers you just the right balance for the job.
Solidly Constructed
Designed as one-piece stainless steel guide. This feature eliminates the possibility of insert pop outs. Moreover, another benefit is that this design can be used by all manner of lines including braid.
Key Features
Protected by 7-year warranty
Durable EVA grips
Light weight feel yet with extra strength
4. Entsport 2-Piece Casting Rod with Alternative Top Piece
If you are looking for a well-priced dynamic duo, then the Entsport 2-Piece is sure to catch your attention. It's a medium-heavy rod, specifically designed for handling heavy weight fish. A closer look at each rod reveals a body made from dense carbon fiber. This is a high-tensile material which is also highly sensitive to vibration.
Enhanced with Guides
The rod is enhanced with 6+1 guides. These create a friction-free feeling of the line of flow.
What's more, each element is aluminum-finished. This means it resists water damage which may cause degradation over time. Needless to say, this protection is essential for fishing, especially intense fishing.
Sufficient Length
The best rods for bass fishing are ones that offer sufficient length. Fortunately, the Entsport 2-Piece offers you 7 feet length. Such ensures you get better movement control. It also gives you the power to attempt long-distance casting.
Versatile
The fishing pole itself communicates great versatility. This is all thanks to its two top pieces. Such are available allow you to explore with different types of action. This is an innovative approach to constructing fishing rods. It's a big plus to angled who need more flexibility in the game.
Key Features
Carbon fiber construction for lightweight but strong product
High density EVA for improved sensitivity
Friction-free line flow for improved casting performance
5. Plussino Telescopic Fishing Rod
If looks are anything to go by, then this Plussino fishing rod is surely miles ahead of the competition. This is a retractable fishing pole which works perfectly in saltwater (but it can be used for fresh waters, too). Moreover, it is made from graphite which means it's highly sensitive and durable in front of any supplimentary stress and pressure that could be put on it. Its reel seats are made from stainless steel which is non-corrosive, so it is protected against long periods of water interaction.
Well Built
This rod is enhanced with carbon fiber and fiberglass; a design that makes it both strong and durable. For maximum flexibility, this rod is available in multiple lengths.
Grip and Comfort
Each rod is reinforced with EVA foam grip which provides added comfort and control. And although the unit does not come with a fishing reel it offers a thrilling experience in water.
Compact
The rod is built with a frequent traveler in mind. That is why you can collapse it for easy storage, at any time. This will make it compact enough for moving between excursions. It is easy to carry. Its collapsed length is 6.6 inches. Plus there is a black bad included for improved storage space.
Key Features
Available in 6 different sizes ranging from 1.8 meters to 3.3 meters
Its line grading is between 2 to 6 pounds
Can handle up to 40 grams in lure weight
6. Sougayilang Fishing Rod Pole Saltwater/Freshwater Kit
This is a combination of a pre-assembled rod and fishing reel. The package is perfect for beginners who may struggle finding the best match up of rod and reel. The rod itself is made from high density carbon fiber. It is therefore reputed for being of high strength and providing extended durability.
Its Design
Although the rod is visibly short, its flexibility still makes one of the best rods under 100​​​​.
It is recommended for catching bass, with a medium-light load. Its design allows you use in freshwater and saltwater conditions.
Compactness
For busy anglers who move from site to site, this rod's telescopic design make it perfect for traveling. Its reel is relatively small offering a gear ratio of 5:2:1. This is useful enough for dealing with small fish fast and smoothly.
Bearings
This unit comes with 11 bearings which make it possible to create a smooth cast and reel-in. This way you can cast a little further without reducing your ability to pull in fish. You can count on such improvements to capture plenty of fish from your awspme and great kayak, reefs and rocks in your next vacation.
Key Features
Made from top grade carbon fiber
Metal reel CNC machine
Ultra-thin streamline designed body
7. Shakespeare Ugly Stik 6 to 15 Pound Test Spinning Rods GX2
The GX2 Spinning Rods have been specially designed to impress – that's for sure. This unit is known for dependability, durability and good looks all rolled into one. This is the kind of rod you should invest in if you are looking for more flexibility. It doesn't matter your level of experience. Even if you are a beginner angle this product's 1-piece construction is sure to stun you.
EVA Handle
This handle improves your grip and also provides you with maximum comfort.
Of course, that is a big plus for anyone planning to spend many hours out there fishing.
Improved Lure Weight
Thanks to the GX2 Spinning rod, you can now handle lure of up to 1/8-5/8 oz. You can therefore carry all your favorite lures with less worries. And once at sea, you can look forward to recording improved catches.
Durable Design
This iconic rod delivers added strength and improved sensitivity. The unit features a combination of graphite and fiberglass. Generally you get better balance and better performance.
Key Features
Patented Ugly Tech construction
Better balanced blanks
Clear tip design with single foot guides
8. Shakespeare 8 to 20 Pound Test Ugly Stik GX2 Spinning Rod
This is not your average fishing rod. Indeed, there are quite a few reasons why it made it to this best fishing rods list. It combines two sublet qualities – strength and durability. Each unit offers you a light feel and generally improved balance. And the 8 to 20 pound monster is not just big on performance, it is also big in looks. Its eye-catching cosmetics give in a modern look sure to stun.
Well Constructed
It is constructed from a combination of fiberglass and graphite. These two materials are needed to achieve a strong and super sensitive rod.
Convenient Design
This rod if constructed upon one-piece stainless steel guides. Thanks to this basic design, it eliminates insert pop outs. Moreover, the rod can be used with almost all lines including the braid.
Extra Strength
Like its other siblings, this one provides added sensitivity and strength. This is as a result of Ugly Stick's clear tip design. In addition, you will find EVA grips which enhance your comfort and give you more freedom of control.
Key Features
6 feet 6 inch medium-heavy spinning rod
1 piece rod construction
1/4 to 3/4 oz lure weight
9. Shakespeare Spinning Fishing Combo Ugly Stik GX2
This is the first ever Shakespearian reel made for Ugly Stik. So what is unique about it? You might want to ask. Well, it features a double anodized aluminum spool. This is enhanced with the presence of an oversized bail wire. Its reels are tough enough just as the rods they hang from. What really stands out about this model is its soft touch handle knobs. Made of fine material, these knobs provide extra grip and comfort.
Unique Pole Design
The rod has a decent black finish. This avoids the common mistake of scaring fish away with reflective colors. Its tasteful logo however, introduces a sense of style to the overall picture. The pole is both durable and sensitive to changes.
Improved Performance
Whether you are left-handed or right-handed, this rod offers you comfort. Its lightweight and sturdy construction provides it with much needed angling balance.
HQ Ball Bearings
Before you head out to fish, you want to ensure that every cast and retrieval is seamless. Jerks and stops are the last things you look forward to. The Shakespeare Spinning Fishing Combo Ugly Stik GX2 does not disappoint. It has an aluminum spool which is designed to spin flawlessly. Besides, there are steel ball bearings for improved performance.
Key Features
Anti-reverse bearings to prevent your line from going slack
Offers a lightweight combination of high-end features
Compression bail springs
7 year warranty
10. Plussiono EW3000 Telescopic Fishing Rod
The list of reasons why the EW3000 qualifies to be on the list of best rods of bass fishing are immense. It has a retractable design which makes it compact for easy carrying and storage. Its pole is made from high elasticity and high density carbon fiber. Therefore, it is lightweight and still capable of handling large pulling force. On one side it is equipped with stainless steel frame complete with carbon oxide wire line guide. Such additions make it a tad easier for you to catch fish.
Improved Configuration
Has an ideal configuration of line guides resulting in smoother operation. This spans the swing wheel all the way to the guide ring. Moreover, the aluminum spool is deep enough for large line capacity.
Better Handling
This unit has a handle that is made from EVA material. This offers enhanced, anti-skid grip. Planning to fish for long hours? This component also provides room for sweat absorption. You also enjoy maximum comfort and minimal fatigue.
Stainless Steel Frame
Worth noting is that this frame has carbon oxide wire line guide. Such a dynamic duo is all you need for smooth and seamless line outlet. This also improves your chances of catching fish.
Key Features
Deep aluminum spool
S-curve oscillation system
Large line capacity
11. Entsport 2-Piece Casting Rod 8 to 20 Pound Test
This graphic-made portable rod promises to transform your fishing experience. But does it meet the cut? For starters, it is built with high tensile strength complete with carbon blanks. This improves strength and also reduces weight. It has an advanced reel seat which comes complete with screw down, hood and cushion. Simply put, it comes with everything needed to keep reels intact even when waters turn rough.
Durably Built
Each unit comes with 6+1 stainless steel guides. The inserts are resistant to corrosion. That also means they are really good at transferring vibrations. That can translate to a better fishing experience. In some cases it can also mean more catches per excursion.
High Density Handle
For easy-handling, this unit comes with EVA handles. These handles are known for three things. First, they are light. Besides that, they are highly sensitive to vibration. Lastly, they are sweat- and shock-absorbent. In a nutshell, you can use the rod for many more hours without worrying about fatigue.
Ceramic Inserts
Each steel guide is coated with ceramic inserts. As you might be aware, ceramic is quite effective at resisting corrosion. Besides, it guarantees you minimal line friction. You can easily tell when a fish has been captured on your line.
Key Features
Perfectly spaced guides for maximum casting performance
Ergonomic reel seats
7 feet medium-heavy graphite pole
​
12. Okuma Longitude Surf Graphite Rods
For anglers shopping for a budget rod that works almost as good as a premium product, the Okuma is an ideal choice. It is made from high quality materials. For instance, its reel seats are made from stainless steel. Same case with its double footed guide frames. Its handle, though not as high-end as we've seen with others, is made from EVA cushions. To back it up as a Pac Bay rubber butt cap. The cork itself is wrapped and all the rear grips are optimized. This makes it super easy to control the rod when reeling your catch.
Sturdily Built
This rod delivers incredible power due to its make. Its body comprises graphite, stainless steel and aluminum oxide inserts. What really catapults it to the top of best fishing rods list is its enhanced length (9 feet to 12 feet).
Easy Handling
Its traditional cork tape grips and EVA cushioning makes it a highly adaptable tool. Its reel seats are super smooth (thanks to aluminum oxide inserts). That alone improves on sensitivity thereby giving you an edge on the shores and banks.
Compact
Although this rod is not as compact as some modern versions it still doesn't disappoint. It breaks down into two pieces for easy transportation or storage.
Key Features
Well-balanced to minimize on casting and fighting strain
Has relatively fast action
Strong backbone, perfect for dealing with big and aggressive fish
The Buying Guide
A guide to selecting the best unit for bass fishing can come in handy in every situation. Talking about guides and rods, this section trains you on what it takes to get the best deal.
Which Is The Best For You?
Almost all fishing rods reviewed here are guaranteed to give you a 5-star kind of experience. However, no two of them are built equally which means we can only have one winner. Our top choice is Plussino EW3000.
It offers the best of almost everything. It is light enough for long-day use. It is well-balanced for better control. Above all, it is aesthetically appealing.
The first runners-up position belongs to Ugly Stik Ugly Stik 8 to 20 pound test unit. This unit is big on strength and big on comfort. It is the kind of rod you need to learn the ropes of angling. The only gripe with it is that its length of 6 feet is quite limited.
The second runners-up position goes to Entsport 2-Piece Casting Rod 8 to 20 Pound Test. Its generous 7 feet of length mean you can have even more fun in the waters. Its ceramic inserts make it one of the most sensitive units we've reviewed this far. The only major issue that denies it the top position is that its backbone is no match for big, aggressive fish. Otherwise, if you're targeting medium-sized fish, this could still leave you mesmerized.
What You Should Know About Bass Fishing Rods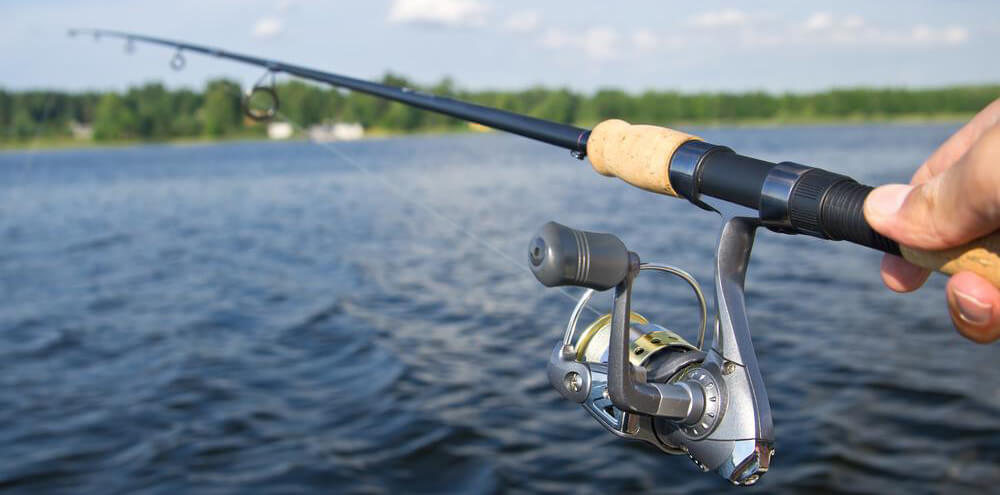 You can never underestimate the task of buying a new fishing rod. Get a wrong one and you will end up spooking the fish. Get a wrongly sized one and you will not be able to cast as accurately as possible. Invest in the right one and you can land a cast on a dime. So how does one go about choosing the right rod?
1.  Rod Length
This is the easiest-to-identify component of any fishing rod. In general, fishing rods range from as tiny as 4 feet to as gigantic as 14 feet. A wide variety of the units we have reviewed falls between 6 and 8 feet length. Go for long rods if you are planning to cast long distances.
Likewise, go for short rods if planning to cast over short distances. Short castings are recommended for close combat. They usually allow less bent once a fish is captured. Its recommended to go for short lengths if you are a kayak angler and long rods if you are a saltwater angler. The most effective kind of rod for fishing bait is one with at least 7 feet length.
2. Type of Material
In most cases rods are manufactured from fiberglass or graphite and in some cases both. Graphite is reputed for its stiffness and lightweight. It however tends to break easily and may not give you enough chance to wrestle with aggressive fish. Fiberglass on the other hand is provides more flexibility. But is generally heavier than graphite. A combination of the two therefore provides you with the best of both worlds. Lighter yet highly flexible rods.
3. Light, Medium, Heavy Power
Power in this case refers to the weight required to bend the rod. A powerful rod is one that bends with gentleness. That however does not mean that more power equals a weak backbone. In fact, the more the power the stiffer the backbone.
Light power rods are preferred for small fish species as they make it easier to detect a bite. Medium power on the other hand is recommended for pairing with reaction-based baits. These include jerkbaits, spinnerbaits and crankbaits. You will require to go for a heavy power rod if you are planning to try gigs like topwaters and frogs. In order to maximize your bass fishing experience, it is recommended to go for medium to heavy power rods.
4. Smooth, Medium, Fast Action
Action is basically that crucial turning point when your rod actually bends. Fast action is therefore seen in situation where the rod bends towards its tip. Slow action on the other hand happens when the rod bends towards the butt end. As a bass angler, you probably need to lean towards fast action rods. These tend to have a strong backbone and are capable of dealing with bigger fish. Go for slow action when chasing smaller, less aggressive fish.
5. Handling
There are two main types of handles. The first and most popular one is the cork handle. The second one is the foam handle. Recently, some rods come with a combination of the two. Deciding which one to choose solely depends on your personal preference. Foam handle works best for long hours of handling. Cork handle on the other hand is recommended for its durability and improved grip.
The size of the handle is yet another factor worth considering. Long handles allow you to use both hands. Shorter handles can only be operated with one hand. As such, short handles are best for short but precise casting. Long ones are recommended for long casting. Go for long handle if you are targeting large-than-average bass fish.
Conclusion
The journey to becoming a successful angler begins with one step. Truth be told, without the best bass fishing rods you missions might end up being more frustrating than they should be. Finding the right unit requires you to take a holistic research approach.
Simply put, you need to read through various reviews (as you've just done by reading this article). This will help you separate the truth from marketing gimmick. Once armed with facts you can go ahead and make an informed choice. Remember, length, material, power, action and handling are the five things to keep in mind.