Best Spinning Reel Under 30 ( Top 5 Reviews – 2018)
Spinning reels are just like cars. You can choose to arrive in style in the latest Ferrari or inside a simple Toyota hatchback – either car gets the job done anyway. In other words, you don't have to cough out a whopping $800 while you can still get a simple and best spinning reel under 30.
All it takes is just a bit of research and, therefore, in this review, we will share 5 such examples to simplify your search.
Best Spinning Reel Under 30 Dollars on The Market in 2018 – Top 5 List
1. Sougayilang Fishing Reel
This fishing reel is not only cheap but also good looking and strong. Its chrome and gold exterior paint the picture of something you can flaunt anytime you are on a fishing mission with your buddies. But there's more to this reel. For starters, it is made with 12+1 ball bearings and 5.2:1/5.1:1 gear ratio which make it highly sensitive.
And in case you are planning to be out there fishing for long hours, the fact that this unit is pretty light in weight makes a perfect bet to reduce hand fatigue.
Its cast control is fully adjustable something that gives it admirable oscillation. What's more? Its spool is made up of aluminum, complete with high-tensile gear. This is so well balanced to ensure every fishing mission is super smooth. The only word of caution here is that you need to find the right reel depending on the kind of water you're fishing in. There are Sougayilang fishing reels for saltwater surf fishing, inshore fishing as well as freshwater bass trout fishing.
Pros
check

Fast shipping

check

Nice and solid feel

check

Accommodates long braided lines
Cons
check

The spool may rust if submerged in salty water
2. Kastking Centron Spinning Reel
This simple spinning reel is fully-fitted with features yet still attracts a low price tag. One admirable aspect of it is its low weight. This is achieved through its graphite frame design which happens to be both sturdy and light. As such, you don't have to worry about hand fatigue when you have to handle the reel for long hours. In addition, the system is computer balanced something that makes it really smooth to reel and highly sensitive to bait bites.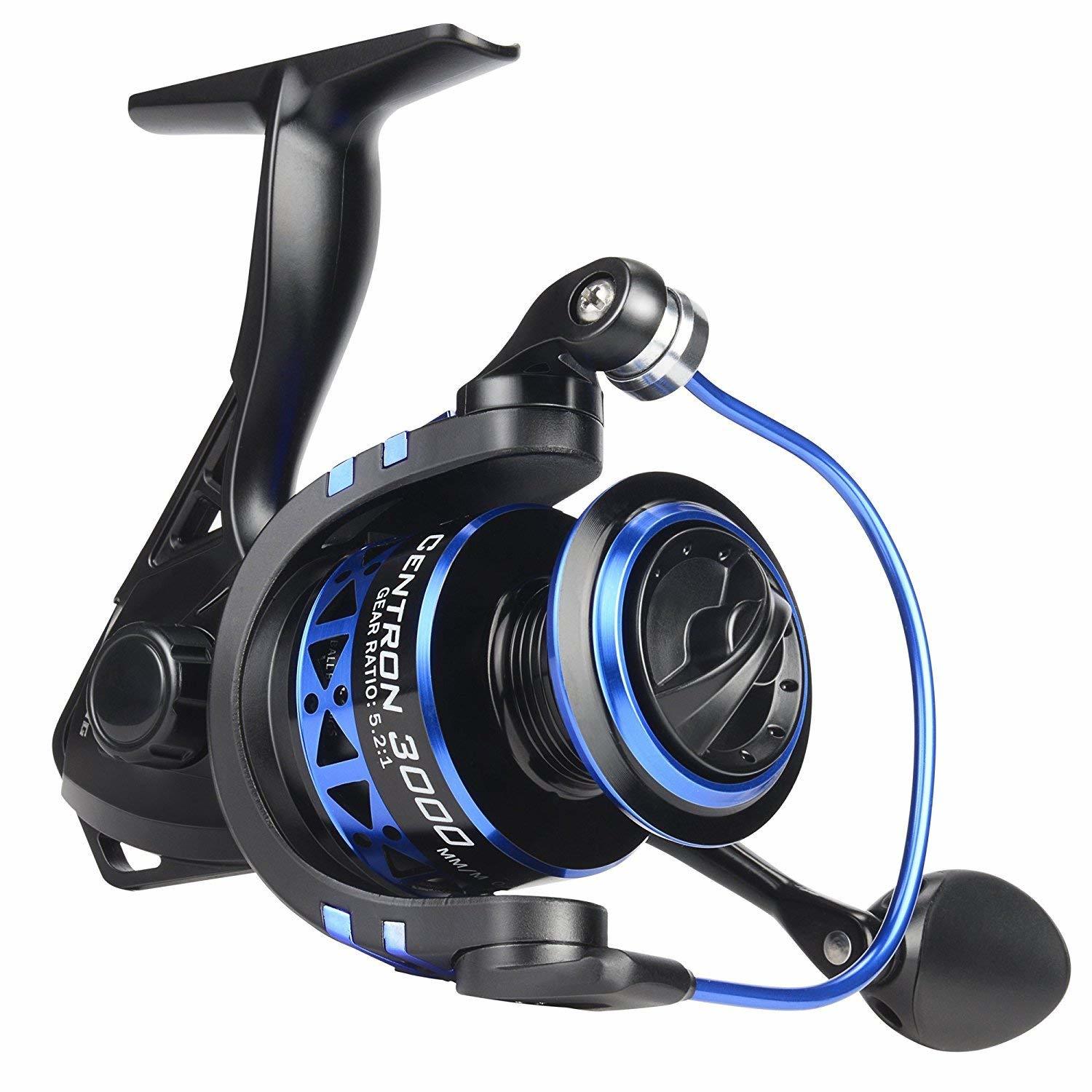 In addition, the high-powered spinning reel offers a superior drag system with incredible stopping power of up to 17.5 lbs. That, of course, makes it extremely accommodative irrespective of the angler's skill level. To back it all up is a hardened metallic main shaft which comes with machined pinion gear and mesh drive gear. These are the kind of features you need in order to ace any bass or ice fishing trip.
Pros
check

High-quality ball bearings

check

Smooth performance

check

Great blue-black aesthetics
Cons
check

May disappoint in heavy duty fishing
You might be interested in reading another one of ours that tells you about Best Baitcasting Reel Under 200, Best Baitcasting Reel Under 50. Best fishing Reels, Best Spinning Reel Under 200
3. Blisswill Spinning Reel
One major challenge with cheap spinning reels is that the spinning reel tends to wear out faster than expected. Cognizant of that fact, the manufacturer at Blisswill figured out that it is important to include a spare spool for free. Therefore, this is a big plus to anyone who may be struggling with reeling due to a malfunctioning spool. And even though this package does not provide a long-term problem to the spooling issue, it still offers admirable value.
For anyone planning to use this unit in salty water, it is worth appreciating that Blissful have gone ahead and introduced a corrosion resistant deep groove spherical plain ball bearing. This offers an incredible performance throughout since the risk of corrosion is minimal.
Moreover, you get to enjoy a high-speed rotation of bearings which means you can land your bait and pull out the catch in good time.
The overall design of this unit comes across as a humanized design. That's a big plus because it simplifies handling and, therefore, minimizes hand fatigue. For instance, the reel's rocker arm has a soft EVA knob for easy handling especially when fast rolling and pulling is involved.
Pros
check

Well-made graphite body

check

Corrosion resistant

check

Lightweight and comfortable
Cons
check

Wobbly on fast retrieve
4. Piscifun Torrent Baitcasting 18LB Fiber Drag Reels
There are quite a few reasons why this is among the most sought-after fishing reels under $30. At such a friendly price tag, it is indeed a little interesting to note that it is made of corrosion resistant materials. In fact, even its name suggests that this is exactly optimized for saltwater fishing.
Besides that, the reel is machined for stronger precision thanks to its pinion gears which operate seamlessly to provide ultra smooth reel spinning. And because sometimes it takes longer to get your daily catch, the manufacturer has made this unit as light as possible. Lightweight and a padded, collapsible handle make for an even much more convenient package.
The Gosccess design is by default designed to work both in saltwater and freshwater. If you have ever tried surviving with a freshwater-only reel, then you probably have an idea how frustrating this can get.
A simple mistake and the entire unit is corroded and you have to buy a new one. However, that's not the case with this unit as the manufacturer seems to have utilized some premium quality parts.
Pros
check

Good value for money

check

Solid and durable

check

Strong driving force
Cons
check

Feels delicate compared to other high-end designs
5. Docooler 10BB One-Way Clutch Fishing Reel
One of the most outstanding aspects of this reel is that it is made from high-quality goldish moving parts. Of course, the model could have been better if they had used real gold-plating. Nonetheless, this reel is pretty lightweight (it weighs a paltry 212 grams) and quite effective at its job.
Beneath the sleek body are nine ball bearings. That may not sound like a big deal until you consider the fact that it increases the number of times the spool rotates with just a single rotation of the handle. Indeed, the gearing ratio of 6.3:1 gives you a high turning speed meaning those evening trips to the lake to fish will be less tiresome.
Another plus with this reel is that it is highly sensitive and therefore highly accurate in alerting you when prey is nabbed.
Pros
check

Technologically advanced

check

Lightweight

check

High-quality material

check

Easily camouflages with water
Cons
check

Has a grainy feel when used for the first time
Before Buying Tips To Get Best one Under 30
The main factor to look out for when shopping for the best spinning reel under 30 is the handle. Cheap units tend to come with a weak handle which can easily snap when turned vigorously.
You, therefore, want to go for a well-built handle. Another key factor to consider is the spool. It is always a good idea to go for spools made out of high-quality graphite or anodized aluminum. Avoid going for cheap, steel made spools as they tend to rust over time.
Conclusion
Whichever you look at it, $30 is a lot of money as far as fishing reels are concerned. You only need to refine your search, zero-in on the best-reviewed product and make a wise choice.