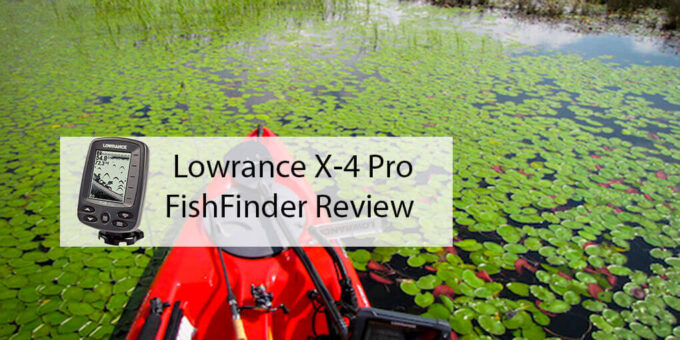 Lowrance X-4 Pro FishFinder Review
Hello and welcome to another one of our articles. Today, we have fish finder on our minds and so we decided to do a highly requested Lowrance X-4 Pro Review for you.
We are on a quest to give you the clearest picture of this fish finder so that by the end of our article, you know what you are getting.. .or not getting. Will the Lowrance X-4 Pro prove to be a worthy finder, or will it fall short? Let's find out!
Lowrance X-4 Pro Review: Here we go ?Lowrance X-4 Pro FishFinder ReviewLowrance X-4 Pro ReviewFeaturesTransducerReceiverSonarSome noteworthy features of the Lowrance X-4 Pro fish finderFrequently Asked Questions (FAQ) about on our Lowrance X-4 Pro ReviewWhat We LikeWhat We Didn't LikeLast Words Click Here for Best Price
Lowrance X-4 Pro Review
The Lowrance X-4 Pro at a glance
From your very first look at it, you just know that it is going to fit well on your watercraft like a dream. It is very lightweight and compact; weighs right around 2.5 pounds and measures 10 x 8 4.4 inches in dimensions, for your information. It isn't handheld so you may have to mount in on-board, and you get all hardware provided for it too so it's all good. Here's the list of accessories you receiver with the Lowrance X-4 Pro:
Transom mount transducer
Installation hardware
The Lowrance X-4 Pro fish finder is loyal in most water, both off and on-shore. However, it isn't as reliable for ice-fishing since the transducer you would need to build a jig of some sort. Enough of that, we will now break down the features one by one.
Features
Transducer
Like we already mentioned previously, the transducer is to be mounted on transom of your fishing kayak. Which is very convenient too, nothing to difficult, but this also means you will not be able to mount it on beams whatsoever.
However, you can try floating it on water using a bobber since it does come with a 20 feet long cable.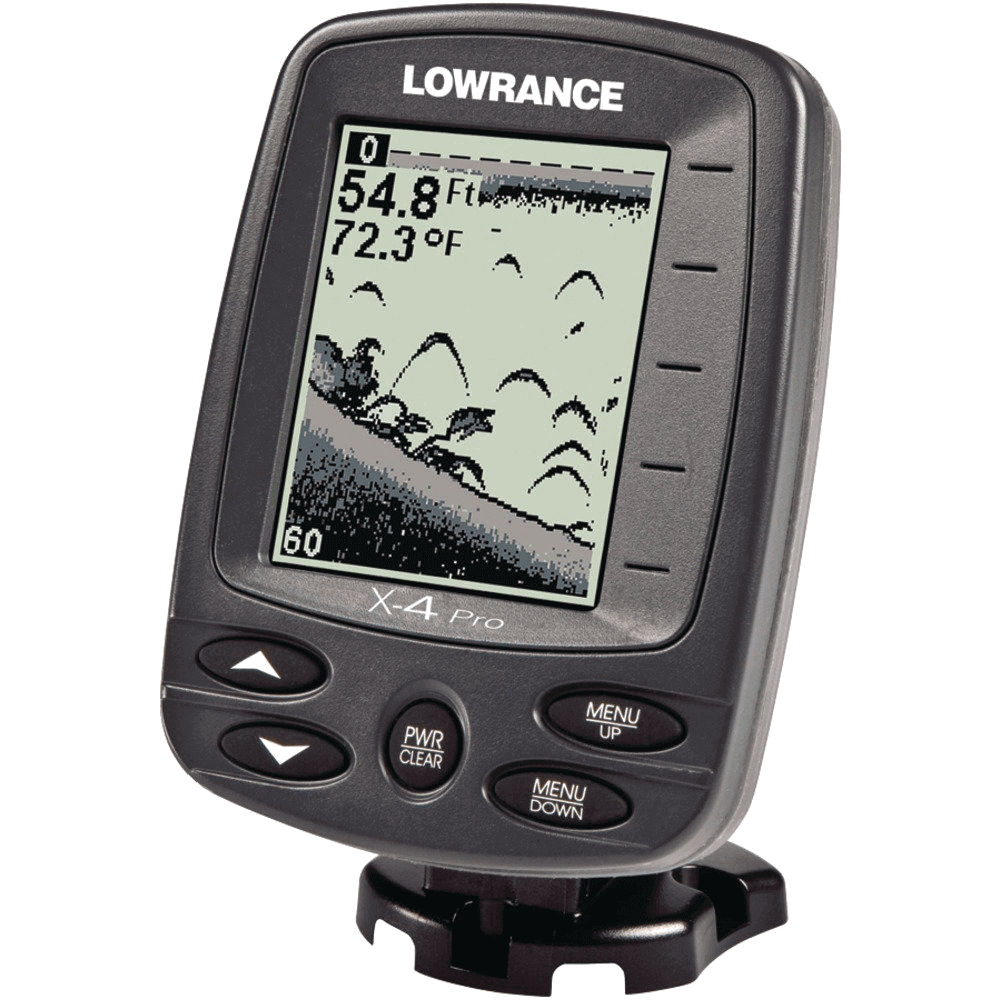 Receiver
The receiver, or display monitor, uses a large 4-inch screen with a 240 x 160 screen resolution which is pretty good. In addition to this, you furthermore enjoy backlit display, which gives you the freedom to fish at night just as easily.
And to add to that, the receiver is also waterproof. You'll be surprised how many receivers are non-waterproof these days because makers think they don't need it since they stay above the water. So Lowrance X-4 Pro having a waterproof receiver definitely winning over the rest.
Sonar
And now for the most important part of any fish finders: its sonar powers. The Lowrance X-4 Pro finder uses dual frequencies, which not only increase coverage but also spikes up accuracy by a whole lot. It uses an 83k Hz and a 200k Hz. The 83k Hz is great for deep waters and can go up to 500 feet deep, and for shallower water like 200-100 feet, the 200 Hz is ideal. And likewise, they have conical coverage of 60 and 120 degrees.
The transducer also does a great job sensing the water temperature.
​
Some noteworthy features of the Lowrance X-4 Pro fish finder
First of all, the Lowrance X-4 Pro finder features automatic tuning for the best display possible.
Second, the display mount can twist and turn in many ways to give you the optimum view. The display is also resistant against sun-glares so it won't be blinded even on the sunniest days.
Third, it has a very enhanced and accurate target separation that does not end up merging up a 2 or more fishes together on the display.
And finally, the display can show your fishes in fish icons instead of the traditional, and rather boring, arches.
​
Frequently Asked Questions (FAQ) about on our Lowrance X-4 Pro Review
1. Is it the Lowrance X-4 Pro finder portable?
Answer: It is definitely compact and light, but we would say it's portable. It is plug and play, and the transducer is hard-wired onto the mount too.
2. Does it need a separate battery?
Answer: Yes, it will need a separate battery since it doesn't have self-contained batteries. You will need a 12-volt battery, just in case you are wondering.
What We Like
Bullet Point 1
Bullet Point 2
​Uses dual frequencies
​Feature auto-tuning and water temperature reading
​Is glare-proof
​Is waterproof
​Flexible display mount
​Can show fishes in fish icon as well as arches
What We Didn't Like
Not portable
Not ideal for ice-fishing
No self-contained batteries
Last Words
The Lowrance X-4 Pro is great fish finder to say the least. We do admit that it comes with its share of flaws, they aren't too problematic since not everyone looks for portable finders, not everyone ice fishes and almost every fishermen carries extra batteries. See? Nothing a little improvising can't fix. On the other hand, if your weigh down the advantages to the finder, it's very clear that it is a winner. In conclusion, we recommend it. It is great, go for it!
This concludes our Lowrance X-4 Pro Review. For any additional info, please click on the product link. And we will see you next time!