NorCross HawkEye F33P Review
The NorCross HawkEye F33P fish finder has been highly requested for so if you have been wanting to get the Hawkeye F33P from NorCross for a while now, then you have come to the right place.
Today, we have a review for you that will settle all your curiosity, doubts and questions once and for all. Let's see if it has what it takes you be your next fish finder.
You may also like to check out another article of ours, that we've already reviewed the Best fish finder , Best Inflatable Kayak Reviews and Best Spinning Reel.
NorCross HawkEye F33P At First Glance
This fish finder is the ideal partner to take on your fishing trips. It light, its compact and of course, its super portable. Keep in mind however, that the NorCross HawkEye F33P is not wireless. You have a long wire that connects the transducer with the receiver.
Despite so, it very neatly snugs into the palms of your hands. It weighs just 1.5 pounds and measures 6 x 3 x 2 inches in dimensions. Here's what you get with the NorCross HawkEye F33P:
Transducer with wire and floating bobber
Storage containing useful hardware like lanyard and side scan adapter
Owner's manual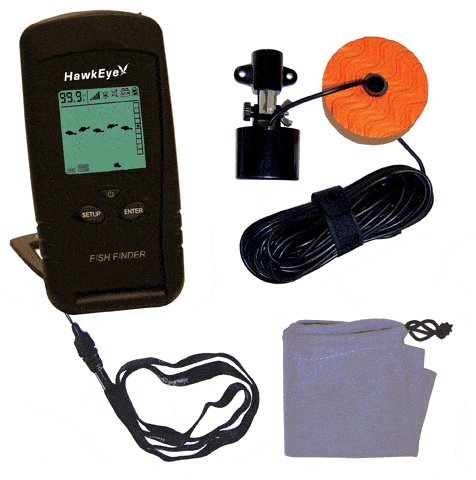 Check Latest Price
Features
Sonar
Let's start with the most important feature of the finder. The NorCross HawkEye F33P uses a single frequency sonar with a 25 degree conical angle to scan the waters. It has depth range from 1.5 feet to 99.9 feet (100 feet, we get it).
Transducer and Receiver
The transducer comes with a 35 feet long cable, and a bobber that keeps it floating on water. However, it is also mountable and troll-able which is always convenient. Information from the transducer will immediately fly over to your handheld receiver, which will show you instant reading on water depth, under water distractions, bottom contour and of course, approximate fish locations.
Display
The display screen on the receiver features a VirtuView LCD display with prevent sun glares and backlight for easy nighttime fishing.
On the contrary, the things we didn't like about the display were that it is a bit on the smaller side, and displays information in monochrome.
Mounting
Mounting the NorCross HawkEye F33P is pretty easy on fishing kayak or any where else. You can throw or cast the transducer as far as the wire (connected to the receiver) can go, which is 35 feet. But as we mentioned before, it is also mountable on the boat's transom, hull; it is troll-able too.
As for the receiver, you could hold in on your hands; it's pretty small. In addition to this, it comes with a lanyard in its accessory bag that lets you wear the receiver around your neck.
Temperatures
The NorCross HawkEye F33P fish finder will work under extreme cold temperatures; like something down to 0 degrees Fahrenheit.
This not only makes it great for on and off-shore fishing, but you can ice fish with it just as easily.
Battery Life
On the back of the receiver, you'll see that housing holds slots for batteries into which you have to insert four AAA batteries to get it started.
These batteries are likely to last you a whopping 20 hours for end-to-end, continuous use!
Some Noteworthy Features
First of all, You will also be enjoying the perks of fish alarms which will go off the very second it detects a fish under its radar.
Second, it also utilizes a fish identifier of fish ID that tells you which type of fish you are closing in on.
Third, it offers you 4 selectable sensitivity settings so you can enjoy instant, no-fuss and accurate readings.
Pros:
The NorCross HawkEye F33P is lightweight and compact
Has a good depth range
​Transducer can used various ways
​Uses flare-free, VurtuView LCD
​Is backlit
Works in very low temperatures
Great battery life
Cons:
Monochrome display
Small screen size
Many customers complained of it displaying erroneous depth reading
Frequently Asked Questions (FAQ) about the NorCross HawkEye F33P:
1. Will the NorCross HawkEye F33P work in saltwater>
Answer: Great question! Yes, the NorCross HawkEye F33P fish finder will work great in saltwater too. However, make sure you rinse and clean it carefully after.
2. Does it show temperature of the water?
Answer: No, it doesn't.
Conclusion
The NorCross HawkEye F33P is undoubtedly is a great product. It is compact, effective and ridiculously affordable. However, it has some pretty deep cracks so pay attention. Complaints about depth misreading and inability to read water temperature are a deal-breaker, for us at least. Maybe it's okay for beginner fishers but it won't be able to hit the mark for expert and no-nonsense fisher. We wouldn't recommend it.
This concludes out review on NorCross HawkEye F33P fish finder today. We hope you see the product a little clearer, a little better and for what it really is now. But for any further details, click on the product link. Good Luck!