The Humminbird 899ci HD Fish Finder Review
We have been receiving a lot of requests for a detailed and comprehensive Humminbird 899ci HD review for quite some time so. We therefore, dedicate today's article to doing just that!
This review is probably the perfect article for you for you before you make any blind purchase. Go through our comprehensive and detailed review of the Humminbird 899ci to make sure you know exactly what you are getting and missing. Let's get started!
Humminbird 899ci HD review
Humminbird 899ci HD fish finder at a glance
What you are getting with the 899ci HD is a wholesome and powerful arsenal of the best fish finding features. However, we are of course not here for the glitz and glam only. We need performance and that is reliable and effective, and the 899ci HD looks promising at first sight.
In fact, this fish finder from Humminbird has quickly become a go-to for most anglers and fishermen. To begin with, it is very convenient due to its compactness and is easy to installation on the boat. It weighs just 8.9 pounds and measures 16.8 x 5 x 13.8 inches in dimensions.
Check out another article of ours, that we've already reviewed the Best fish finder and Best Fish Finders for Kayaks.
Features
Sonar
First of all, the 899ci HD fish finder uses dual frequencies to maximize both coverage and accuracy. It operates on 83k Hz and 200k Hz and is thus great for both deeper and shallower waters. However, during side imaging, the transducer will emit 455k Hz and 800k Hz.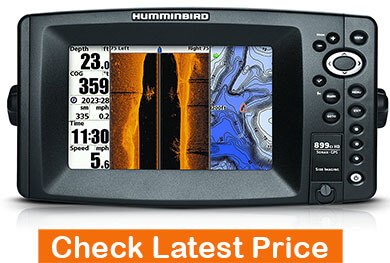 The transducer is XHS-9-HDSI-180-T, and transom mounts but it can easily mount on trolling motors as well. Every little detail, including water depth, distance, and bottom contour is shown right onto the receiver.
Display
Speaking of the receiver, the 899ci HD is equipped with some stunning display features that take fish finding to a whole new level. First, you have a very large wide 7-inch 256 color TFT display screen with 88 x 400 resolution.
Second, the 899ci HD fish finder lets you enjoy viewing the best ways possible. You have your basic 2D imaging for starters. But you have have side and down imaging to scan the waters sideways and right down under.
Third, the 899ci HD is equipped with SwitchFire® technology, which allows the users to reader to read information and images in 2 very different yet very useful modes: Max and Clear. Max Mode allows you see return images in exceptional detail; even the smallest of underwater objects like rocks, bush, etc. Whereas in Clear Mode you will be able to see fish locations only, which is particularly great for focus and concentration.
Depth range
Keep and mind that the depth range will decide the height-area of the water that is under your transducer's watch. And the more, the better.
However, depth range can change depending on several variables. In fact, the maximum depth of the 899ci HD finder is 1500 in 2D, and 150 feet in side imaging.
GPS
So far we all know the wonders of GPS. However, having a built-in GPS in your finder is a different kind of wonder entirely. Having a GPS around, you ensure maximum safety since you can control and check on locations. Moreover, it can also act as a map for your fishing trips.
Maps and waypoints
Speaking of which, the 899ci HD fish finder comes preloaded with Humminbird ContourXD maps and it supports Navionic Gold and HotMaps upgrades just as easily.
In addition to this, pin and save your favorite fishing spots and locations on the 899ci HD finder. Finding nearest dock, popular fishing hubs, previous locations and son on, has never been easier!
Memory
For you to save indormation, your finder will need memory. And the 899ci HD finder does not lag behind.
In fact, it comes with not one, but 2 SD card readers to store and guard your valuable fishing data.
Some mention-able features
50 routes, 50 tracks, 20, 000 points
GPS chartplotting
​Screen snap shot
​Freeze frame
Split screen zoom, so much more!
FAQ on Humminbird 899ci HD
1. "Can the change to metric system on my depth and distance?"
Answer: Yes, you most certainly can.
2. "Will it give me the water temperature and speed readings?"
Answer: Yes, it will.
Pros:
The Humminbird 899ci HD finder is compact and easy to mount
Uses dual frequencies
Has amazing display features including SwitchFire®, side and down imaging
Offers internal GPS and maps
Includes waypoints, routes, plot trails
Offers 2 SD card slot
Cons:
Is not compatible with other humminbird units
Poor customer service team
Final words
Is it the best? No. But it is pretty darn close! The Humminbird 899ci HD fish finder is definitely one of the better and refined finders out there. And for a price like that, we expect nothing less either! Nevertheless, it is powerful, versatile and super user-friendly. The cons are disappointing but they aren't deal-breakers. In fact, we have a lot more to celebrate in its numerous advantages. In other words, we say go for it. Recommended.
This concludes our Humminbird 899ci HD review. We hope you enjoyed reading and learning from it. Until next time!