As a beginner, learning how to fish and catch different fish for the first time is a rewarding endeavor. The excitement of discovery and the thrill of the catch is exhilarating. Before you can fish, however, it is important to understand the supplies you need, the different angling you can do, and how to catch different types of fish. That is why we put together this ultimate guide for fishing beginners, to make your next fishing experience a breeze.
COMPARISON TABLE
Fishing Supply Checklist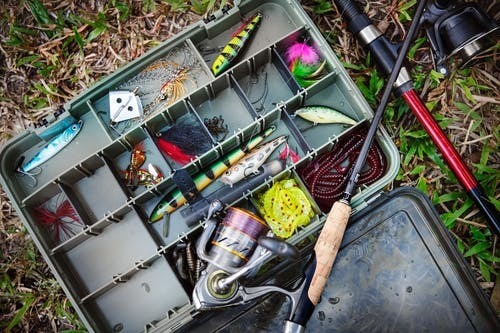 Image Via ​pexels​​​
Benefits of Fishing
Before we delve into the essential fishing supplies you will need, it is worth mentioning some great benefits you can enjoy when engaging in this worthwhile sport.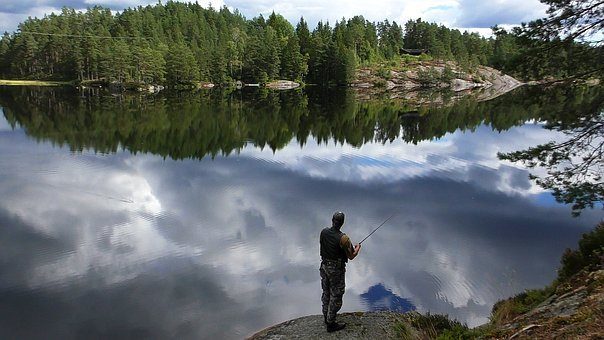 Image Via ​pixabay​​​
Firstly, fishing is an amazing way to tamp down your stress levels. When life gets busy and you feel the stress building, going fishing can help you take a moment to stop and breathe. Plus, it is great to spend time outside and connect with your fellow fishing enthusiasts. Another good reason to learn how to catch different types of fish is the benefits you receive for your overall physical and mental state. Fishing can help put you in a mindful state and relax you, allowing you to focus on the task at hand. Also, fishing allows you to spend considerable amounts of time outdoors, keeping you moving and enjoying the sunshine.
EINSKEY Sun Hat for Men/Women, Waterproof Wide Birm Bucket Hat UV Protection Boonie Hat for Fishing...
ADJUSTABLE & UNISEX: Rear elastic drawstring design, one size fits men's and women's head circumference of 22-24 inches. Adjustable chin strap holds...
SUN PROTECTION & WATER REPELLENT: Wide brim 3.7-3.9inch keeps your face and neck safe from harmful rays. Water repellent polyester material could...
COMFORABLE & BREATHABLE: The mesh panels design allows for moisture and heat to easily escape these hats. Built in sweatband removes sweat from eyes...
Fishing is a wonderful way to make new friends and connect with current ones. Many anglers enjoy fishing with friends and meeting fellow enthusiasts while engaging in the sport. It is also a perfect group activity for friends and family. One of the main reasons anyone learns how to catch different types of fish is purely for fun. Fishing is not only great for your body and mind, but it is a fun way to get outside and enjoy yourself for a few hours. If you make a big catch, it only heightens the thrill of the moment.
The wonderful thing about different types of fishing is that anyone can learn these methods at any age. If you are afraid that it is too late to get started, take heart. You can always pick up the skills required to fish and it will enrich your recreational hobbies considerably.
License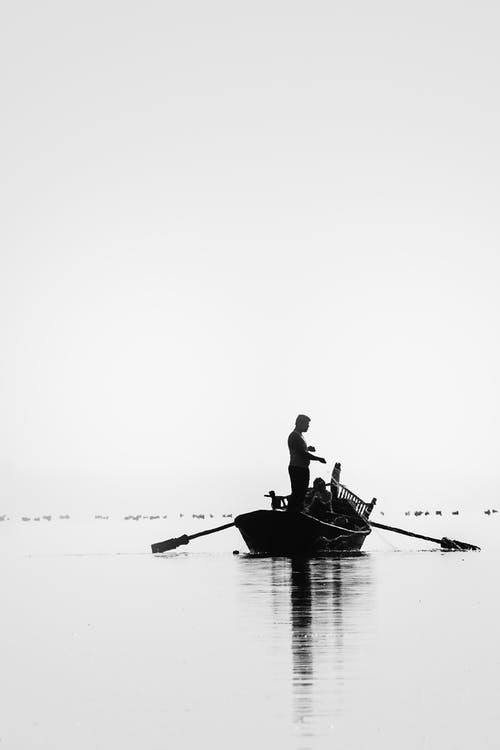 Image Via ​pexels​​​
Now we have explored some key benefits associated with different types of fishing, it is time to delve into the supplies you will require to get started. Fishing supplies do not require a considerable investment to get, but you must have them before you make your first catch.
The first thing you will need is your fishing license. Every state has different regulations for fishing, so you will need to check and see what rules are required for your particular location. Takemefishing.org has fantastic state-by-state guidelines so you can see what is required and where to purchase your license.
Rod and Reel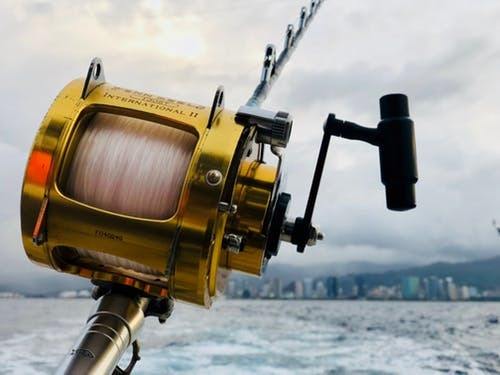 Image Via ​pexels​​​
The next thing you need before you learn how to catch different types of fish is a rod and reel. Adult anglers should have a spinning rod and reel while children do best with a rod and reel hybrid.
When hunting for the perfect rod, select one that fits with ease into your hand. If you are a beginner, close-faced reels might be your best bet. Individuals with more experience often go for open-faced reels that have a longer cast.
Fishing Line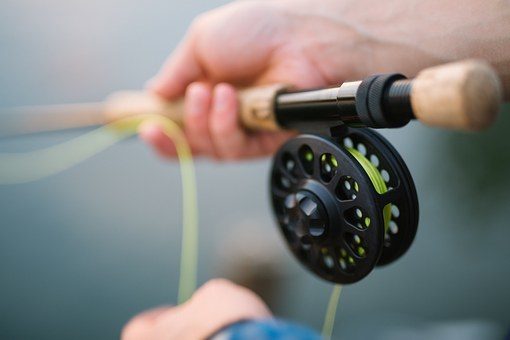 Image Via ​pixabay​​​
No supply list would be complete without the essential fishing line. A monofilament fishing line is best. If you plan on catching smaller types of fish, lines marked with an 8-pound test will serve you well
Clippers
You will also need a quality pair of clippers to go fishing. These are great for snipping your fishing line. You can even use nail clippers if you so desire.
Hooks and Weights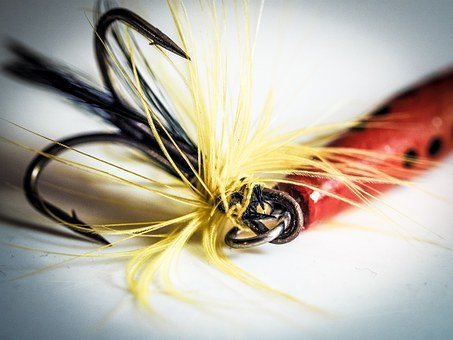 Image Via ​pixabay​​​
Hooks and weights are an important part of any angler's supply kit. If you are a beginner to catching different types of fish, combo kits are perfect because they have plenty of hooks and weights options.
When catching smaller types of fish, hooks between the sizes of six and 10 will work best. If you intend to catch and release, circle hooks will enable you to enjoy the thrill of the catch without harming the fish.
Split Shots
Split shots are essential for your fishing supply checklist. These are tiny metal weights you attach to your fishing line.
Plastic Bobbers
If you want to keep an eye out when the fish bite on your line, plastic bobbers are the way to go. They float and will give you a heads up when fish gather around your line and bite.
Bait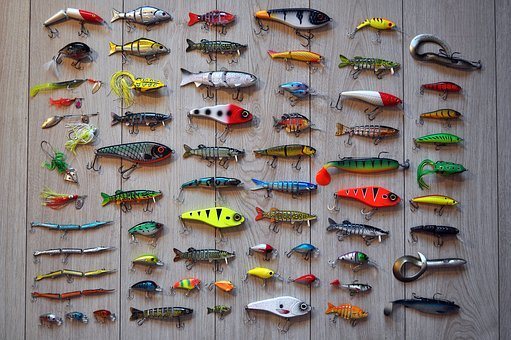 Image Via ​pixabay​​​
You can choose different types of bait for fishing as you so desire. Most sporting goods retailers and tackle shops sell live bait, which will be your best option in most scenarios.
Live bait like crickets, minnows, and nightcrawlers are great choices. If you are not sure which bait will work best at your chosen fishing location, ask your sporting goods store or tackle shops for advice regarding the best bait to use. If you cannot use live bait, artificial bait with a pliable, plastic exterior is ideal.
Pliers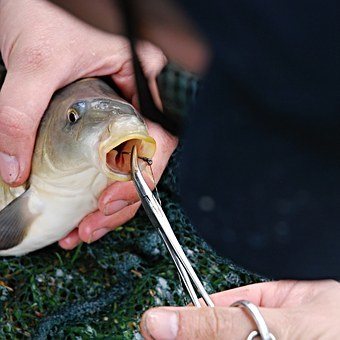 Image Via ​pixabay​​​
To make it easier to detach your hook from the fish once you catch it, always have a pair of pliers with you. This will help you preserve the strength of your hook and line. If you engage in catch-and-release fishing, it will also make it easier for you to disengage the hook without harming the creature.
Tackle Box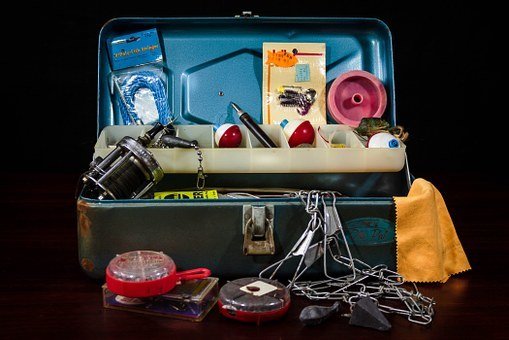 Image Via ​pixabay​​​
Once you have gathered all your supplies together, you might find that you prefer a tackle box to keep everything in one place. A tackle box is the best way to organize all your supplies and makes it easy to reach for whatever you need at any point.
Bucket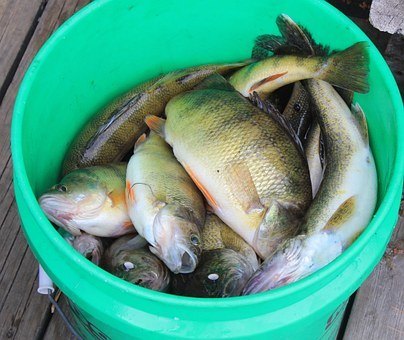 Image Via ​pixabay​​​
Be sure to bring a bucket along to hold your bait, live or artificial. You can also use the bucket to store any fish you catch. As a side note, buckets make a perfect seat if you do not feel like standing the whole time you fish.
Miscellaneous Essentials
There are some miscellaneous essentials you need to bring regardless of the types of fish you go for. You need to bring a net, particularly if you plan on doing catch and release fishing.
If you intend to keep the fish, bring along an ice chest to store and transport them in. If you will fish in warm weather surrounded by foliage, bring along bug repellent or sunscreen to keep yourself from getting bit. Remember your sunglasses to shade your eyes from UV rays and any flying hooks.
When it is sunny outside, wearing a hat and clothing to protect you from the sun will keep you from getting overheated and burnt. You might also want to include a fishing ruler or scale in your tackle box so you can weigh and measure your catch.
If you feel like recording your catch triumphs, bring a camera along to preserve the moment for posterity's sake. Always have a radio or cell phone along in case of emergency. Finally, remember water and snacks to keep you fueled while you fish.
Types of Fishing
Freshwater Fishing
There are quite a few different types of fishing you can enjoy, depending on your preference and the location you fish in. The first type of fishing is freshwater fishing.
No products found.
You can do freshwater fishing in a stream, pond, lake, or river, and you can probably find a freshwater source near your home without trouble. Freshwater fishing is an excellent choice for beginner anglers as you do not need to bring along a lot of equipment and you can stay on dry land while you do it.
About 40 percent of all fish are from freshwater sources. Fish like trout, bass, catfish, salmon, walleye, and crappie are all freshwater fish. You can enjoy freshwater fishing from the shore or land, but you can do it from a bridge or boat too.
Saltwater Fishing
Also an excellent option for beginners, saltwater fishing can be done from a boat or on shore as you desire. Depending on the types of fish you are aiming for, you may need to bring particular equipment along to make a successful catch.
Talk with a local saltwater fishing expert before getting started. You can catch many types of fish in saltwater locations. Saltwater fishing on the beach is perfect for beginners and is extra fun to boot.
Shore Fishing
Shore fishing works in both freshwater and saltwater locations. You can catch fish from most shores, so the most important thing is to ask a local expert what types of fish are native to your location. That way, you can figure out the best bait to bring along.
Penn Clash Spinning Fishing Reel
Saltwater spinning reel delivers durability, smoothness, and precision for technical anglers
Durable construction with fully machined CNC gear train, full metal body, and heavy-duty aluminum bail wire
HT-100 carbon fiber drag washers and wave spring provide smooth drag that doesn't bottom out
Catch and Release Fishing
Catch and release fishing is when you fish for fun, but do not want to kill and eat your catch once you are done. So, when you make your grand catch, you throw the fish back into the water to swim another day.
Exert extra caution when engaging in catch and release fishing. Disengaging the hook from your catch is delicate work.
Fly Fishing
If you want to fly fish, you will require a special fly rod, reel, and artificial flies to get the job done. The great thing about fly fishing is you can do it in both freshwater and saltwater areas.
You may be required to do extra research and educate yourself regarding the equipment you will need when fly fishing for certain types of fish. Some techniques work better than others in fly fishing, so this is something to pay attention to.
Ice Fishing
If you do not mind catching various types of fish in cold weather, ice fishing might be the perfect fit for you. To go ice fishing, you must choose a location with a layer of ice you can walk on.
Columbia Sportswear Bahama II Shirt SAGE Lg
SUN PROTECTION: Columbia Men's PFG Bahama II Short Sleeve fishing shirt features our signature UPF 30 fabric that helps to blocks UVA and UVA rays to...
HANDY FEATURES: This short sleeve fishing shirt features two handy chest pockets with velcro closure for convenient storing.
COMFORT & BREATHABILITY: Hidden vents at the shoulders and 100% nylon quick dry fabric make for a shirt that's breathable and comfortable during any...
Brush up on special ice fishing techniques and invest in some additional equipment. For example, supplies like an ice auger to puncture holes through the ice and portable shelters to keep you warm and dry will be imperative.
Canoe Fishing
If you really want to connect with nature, canoe fishing is a good option for beginners too. You can enjoy the beauty of the water and surrounding topography, all while making a fantastic catch.
Before you go canoe fishing, understand how to launch, paddle, and land the canoe. Once you have those elements mastered, canoe fishing will be an easy transition.
Stand Up Paddle Board Fishing
For more competitive anglers, stand up paddle board fishing is an invigorating choice. It requires strong muscles and good balance, but you will work out all the muscles in your body before the catch is done.
Different Types of Fish & How to Catch Them
Largemouth Bass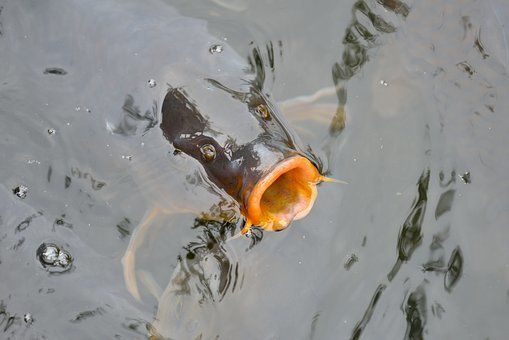 Image Via ​pixabay​​​
Now you are an expert on all the essential supplies and types of fishing you can do, it is time to examine the different types of fish and how to catch them. The first is the largemouth bass. You will need a four to a seven-inch long plastic worm, size one to 10 worm hook, and some nails to balance out the weight.
The best place to fish for largemouth bass is in shallow ponds and lakes, close to foliage like laydown trees or lily pads. Covered areas like docks are another good spot to fish for largemouth bass.
Start by attaching the hook and line and inserting the hook in the center of your worm. Put a couple nails in the worm's end, so the worm will fall slowly and be an easy bite for the bass. Let the line go slack once it connects with the water. After your line reaches the bottom of the water, allow it to sit still for about 5 seconds.
Now, you need to tighten the slack and brush the worm towards the surface by raising the rod. Allow the worm to go back into the water with a slack line. Repeat this process five or six times for every cast, then reel in and cast the worm out again.
Once the large water bass bites, you will sense a tick on your line or see your line float over to the side. Whenever either of these events occurs, tighten the slack in your line, snap the rod so the hook is set, and reel in your catch.
Trout and Smallmouth Bass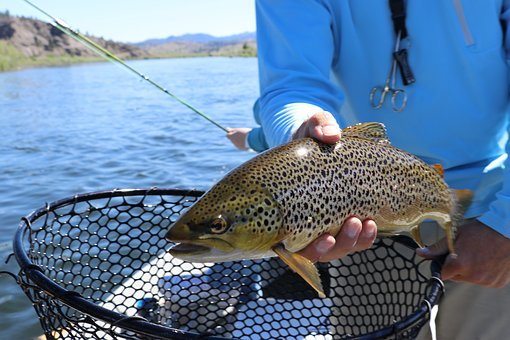 Image Via ​pixabay​​​
To catch types of fish like trout and smallmouth bass, use a two-inch tackle running four feet or less. The tackle should have a crawfish or minnow colored appearance.
The best locations to catch trout and smallmouth bass are in rivers and clear streams where the currents meet. Areas behind laydown trees and boulders where the rapids start and end are good spots. Trout usually live in cold streams, particularly in mountainous areas, while smallmouth live in warmer waters. The small crankbaits you will use appear to be minnows in the water or crawfish if they collide with rocks.
To start, cast your crankbait upstream and put the bait down towards the current, reeling in with even movements. These fish usually hide around the changing tides, so put your bait in these areas to make a better catch.
You can drag your lure through rocky and tree-covered areas in the water, and pause after each. You will get the most bites as you start and stop dragging your lure.
Panfish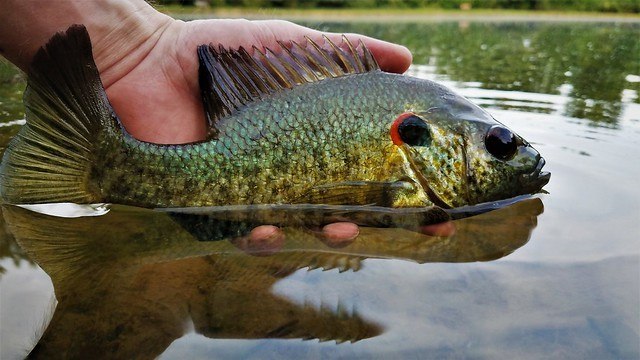 Image Via flickr
Panfish include types of fish like sunfish, bluegill, and crappie. You will need to use one-inch jigs for a tackle. The best areas to catch these types of fish are shallow lakes and ponds, near covered areas like largemouth bass.
Bluegill and sunfish gather near covered areas in shallow water sources starting in the late spring and going through the summer. You can locate a spawning bed by wearing polarized fishing glasses and spotting clusters of 10 to 50 circles. The circles should be about the size of a dinner plate.
Take your small jig and attach them to a four to eight-pound test line. Cast your jig in the shallow area near the logs, weeds, and rocks and allow it to sink to the bottom. Tug at the jig gently and pull the bait partially back towards the boat or shore.
You will probably find that bright, eye-catching jigs will work best because crappie and panfish are drawn to these kinds of baits. Jigs with silver, pink, yellow, or orange colors are great options. You might find that the material the jig is made from matters too, such as plastic vs. tinsel.
Carp and Catfish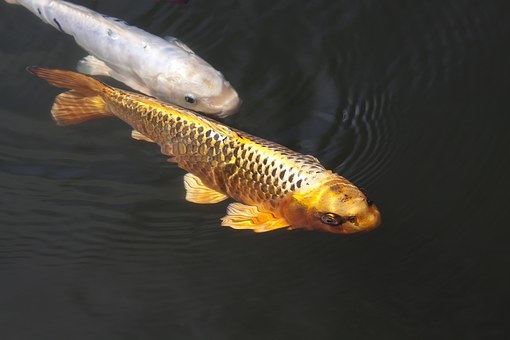 Image Via ​pixabay​​​
For carp, catfish, and all other types of fish, use a live minnow rather than a worm. You will need a hook, bobber, and split-shot sinkers too. Fish in a lake, pond, or river of your choice. Cast repeatedly in your preferred spot to find the best cluster of fish.
Start by attaching the hook to your line and securing a 12 to 36-inch bobber above the hook. Next, attach the split-shot sinker to the line beneath the bobber. You may have to use more than one if your sinker and bobber are large enough.
Attach the minnow to your hook. Make sure the minnow is secured, so it does not fly off the hook when you cast it. Next, cast the minnow and let it float in the current.
Cast upstream so the minnow and bobber gravitate towards the fish. Make sure you wait until after the bobber disappears beneath the surface of the water before you set your hook.
Conclusion
Learning how to catch different types of fish and understanding the gear you will require is the most important thing you can do before you begin the sport. Remember to get your fishing license, make sure your tackle box is organized and fully stocked, select the type of fishing you want to do, and identify the fish local to the area you will catch in.
Last update on 2023-09-25 / Affiliate links / Images from Amazon Product Advertising API