Best Fish Lip Grippers 2018 - A Guide for Fisherman
​Regardless of species or size of fish you are landing, your handling and control ability is vital for the survival of the fish. That's why you need to get the best fish lip gripper. Fish grippers have a unique jaw design that allows you grip the fish's lip without harming it. This gives you added handling and control ability so you can keep the fish in water while taking the hook out or reduce the time the fish spends out water while handling it. Unlike nets, fish lip grippers are easier to stow and occupy less space on your kayak.
Fish Lip Grippers Styles
Fish lip grippers come in a large variety of materials, designs and prices. They are available in three main styles:
Floating Plastic Fish Lip Grippers:​
​Just as the name suggests, these fish handling devices float on the surface of the water. Though they don't have pistol grips of T-style grips, they are able to grip the fish's lip tightly.
Pistol Fish Lip Grippers:
They resemble a handgun. Piston grippers have a trigger that opens and closes a set of jaws at the muzzle. They have an ergonomic to enhance hand strength and reduce fatigue.
Traditional T-Style Fish Lip Grippers:
They are made from stainless or aluminum. They have a T-shaped handle that the fishermen can grab with a fist. These grippers have a pair of claw arms that clamp around the fish's lip tightly.
To get the most out of your fish lip gripper, it is important to ensure you choose the best. There are many grippers on the market today. In this article, we will provide you with detailed reviews of the best fish lip grippers on the market in 2018.
Top 7 Fish Lip Grippers on the Market - Compare Table
Best Fish L​​​​​ip Grippers in 2018 - Review
1. Eastaboga Tackle BogaGrip
The Eastaboga Tackle BogaGrip is a high quality fish-landing device, but also a tool ideal for fish weighing and handling. Its easy and one-handed operation allows its angler to clench your fish's lower jawbone, lift the fish from water and effectively release it with less handling and strain
The Eastaboga Tackle BogaGrip fish lip gripper is manufactured from pure stainless steel, making it resistant to both the corrosive sea salt and water. It measures 10 inches in length and is lightweight making easy to carry in small boats and kayaks. The fact that this gripper is made in the United States guarantees its high quality.
What we liked
Best Fish Lip

Grippers Under 30
2.

Berkley Big Game Fish Lip Gripper
The Berkley Big Game fish lip gripper is one of the top recommended lip grips for providing quality products. This fish lip gripping features a rust free metallic body with a positive locking jaw that holds the fish until it is released by hand.
This fish lip gripper has a large finger rest for keeping your hands free from handling the fish and also allowing easy and faster opening of the jaw. It has a comfortable non- slip grip handle for easy and comfortable usage.
The Berkley Big Game Fish Lip Gripper comes in with a built-in tape that measures, 3.50 inch height by 5.75inch width by 15.25 inch length and an adjustable lanyard. Berkley big game lip grip does a great work in both salt and freshwaters. It comes with a guaranteed lifetime warranty.
3.

Piscifun Portable Fish Lip Grabber Gripper
Piscifun fish lip gripper is another top rated fish lip gripper. It comes with a weighing ruler and scale gripper that measure up to a weight of weighs 40Ibs or 15kg of. Its ruler length measures approximately 3ft or 1metre. It is easy and faster to read the size of the fish by only operating by use of your hand.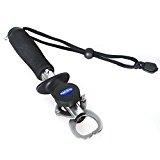 The tool measures 9.45 inches in the length, making it easy to carry around. It has a wrist strap that is best for protecting fish gripper from being lost. The gripper is suitable for use on fish of all sizes and species.
The Piscifun Fish Lip Grabber has a super comfortable and non-slip EVA handles for easy and comfortable use. The portable lip grabber also has a corrosion resistant stainless steel body that is well suited for both saltwater and freshwater use.
4. Entsport Fish Lip Gripper
The Entsport Fish Lip Gripper is another top rated gripper that comes with a very affordable price. The gripper features a retractable tape measure that is affixed at the jaws. The unit also boasts a comfortable non-slip EVA handle with an adjustable wrist wrap that makes it easy to transport the tool.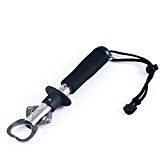 The fact the body of this fish lip gripper is made from high quality stainless steel gives it excellent corrosion resistance properties. The tool can be used in both salt and freshwaters. It comes with a lanyards makes it convenient to use. The unit is easy to use and specially made for simple one handed operation.
Best Fish

lip Grippers Under 15
5.

Yak

Gear Fish Grip Jr. 2017
Yak Gear Fish Grip Jr. 2017 fish holding tool is ideal for landing fish of any size or species. Its jaw design holds the mouth of the fish hence enabling you to pull out the tool's hook without hurting your fish catch. The wrist lanyard of this tool helps you to keep the tool close to your hand.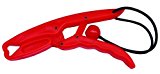 The Yark-Fish Grip is crafted from a long lasting combination of both plastic and steel materials for enhanceddurability and exceptional corrosion resistance features. It is further featured by weight scale slot and a floating design.
6.

United

Plastic Fish Grip lip holder
The United Plastic Fish Grip lip holder is one of the most popular fish grippers on market. It is manufactured from strong and long- lasting plastic that float on water. The gripper readily locks and unlocks into place to secure and release your fish catch.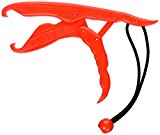 This fish lip gripper has a pliers-like design that enables you to handle your fish catch easily, precisely and safely. This tool is verysimilar to the original united plastics fish Lipper, the only major difference being their lengths.
7. Suaoki Fish lip

Gripper
The Suaoki Fish Lip Gripper is made from stainless steel to give it enhanced durability and protection against corrosive sea salt. This landing tool boasts a non-slip Eva foam handle that ensures it does not slip out of your hands while using it.
The Suaoki fish lip gripper also features a built-in 15kg scale that will balance anything that the grip hook holds. This ensures you efficientlymeasure the weight of your fish catch. The gripper comes with double sided action triggering design that makes it possible to catch and release fish using one or two fingers
If you don't have any budget issue then you should go for Eastaboga Tackle BogaGrip our number one suggested griper.