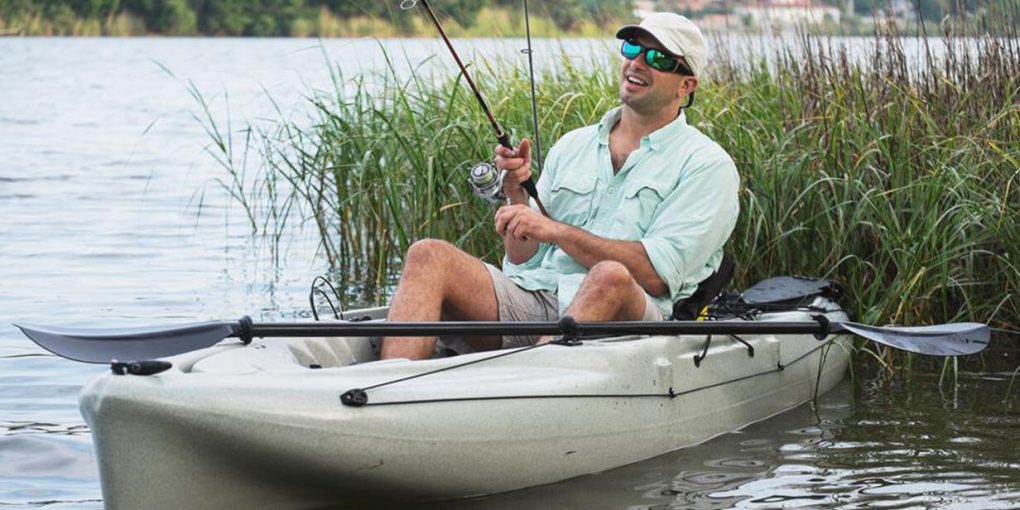 Best Sit On Top Kayak 2018 - Top Rated SOT Kayaks For The Money
As a beginner kayak user, you will realize just how important it is to get a kayak that is designed to suit your exact needs. Put simply, you will want to find a unit that offers adequate space to sit on, one where you can even place your fishing rods, reels, baits and so forth. All such benefits can only be found on the best sit on top kayaks.
An ideal sit on top (SOT) kayak is one that comes with a molded open space. This is suitable particularly if you are looking for extra leg room. What's more? The SOT design gifts you with extra flexibility which means you can continue fishing for many more hours without worrying about fatigue. On top of it all, in case something happens to the kayak and it tips over, you will not need to do an Eskimo roll.
Do you have an idea what an Eskimo roll is? Well, it is a strategy that requires you to turn with the boat and grab the water and then use your hips to get back in the correct position. Of course, you will be able to learn more about that as time goes by – but for now, let us focus on getting you a nice sit on top Kayak so you don't have to worry about this anyway.
In this article, you are going to learn about:
Best Sit-on-Top Kayaks 2018 - Rankings & Comparison
If you're looking for acres of open space that allows you to fish all day long without experiencing any discomfort, this is certainly the run-down of options you need to explore.
10 Best Sit on Top Kayaks in 2018 - Reviews
1. Ocean Kayak Malibu Tandem Kayak
The Ocean Kayak is one of the well-known brands in the fishing industry. This particular model stands out as one of the best sit-on-top units and is perfect for a couple with a young kid or a pet. The kayak can hold up to 425lbs of load capacity while at the same time remaining very stable. It can also be paddled solo from the center seat or even tandem if you like.
In addition, it features a hull and great deck design that allows for easy stacking of several hulls together. This feature comes in handy when you want to store the kayak on the dock. Also, it is fitted with a skid plate to prevent damage to the bottom of the kayak when it comes in contact with the ground, especially in shallow waters.
Although the kayak has three seating position, it only comes with two Comfort Plus seats. The seats have been reported to be quite comfy for all day fishing trips. Further, it boasts overlapping foot wells which allow the paddler seated at the center to enjoy comfortable foot bracing. It also includes three molded-in seat wells for extra comfort. Needless to say, it is easy to carry all thanks to the molded-in side carry handles it comes with.
2. Sun Dolphin Journey 10-Foot Sit-on-Top Fishing Kayak
The Scrambler 11 is yet another great sit-on-top kayak from the Ocean Kayak brand that is worth checking out if you like paddling solo. It is made of solid roto-molded polyethylene plastic which ensures it can withstand tough conditions and take a bit of beating. And for added durability, it is fitted with a replaceable skid plate on the rear to ensure its underside is not damaged.
Moving on, the kayak is equipped with a six-inch Cam-Lock hatch that provides you with dry storage area for your essential gear. It also comes with a large tank well along with bungee straps, deck bungees, and a cup holder. Further, it features a paddle keeper on each side of the kayak to secure your paddle when not in use.
Additionally, it comes with a padded Comfort Plus Seat back that is fitted with a durable foam to provide you with incredible cushioning and support. Further, the seat allows for four-way adjustability which is a nice addition, especially for all-day paddling. It is also equipped with Ocean Kayak's overlapping foot wells to accommodate people with different leg length. Also, it features a Tri-Form hull design for excellent stability, tracking ability and maneuverability in most water conditions including on flat water.
3. Lifetime Tahoma 100 Sit-on-Top Fishing/Vacation Kayak
At 500lbs, this SOT kayak definitely has generous weight capacity. As such, it can be used as a solo or tandem kayak. It can also fit up to three people including two adults and a small kid comfortably. The kayak comes with two soft padded backrests that provide great support especially if you are going to be out on the water for extended hours. In addition, the seats feature High and Dry design to keep everyone comfortable onboard.
On top of that, it boasts a tunnel hull design that makes the movements very stable and almost impossible to tip over even when paddling on rough waters. Also, the hull design provides the kayak with great tracking and maneuverability.
Further, the kayak comes with two double-sided paddles that seem to be of high-quality to ensure you can start using the kayak as soon as it is delivered to you. Also, it is fitted with molded carry handles on the front and rear of the kayak for easy transport. In addition, it features a cargo area at the front with bungee straps so you can bring along with you all the gear you would like.
4. Escape Angler Sit-on-Top Flat Water Ocean Kayak
Designed with every other kayak angler in mind, this model from Bonafide Kayaks is loaded with plenty of features for the best angling experience. Featuring hybrid cat-hull design, it is carefully designed to provide the paddler with maximum stability without sacrificing paddling performance. In fact, it paddles efficiently, has excellent glide and great turning power that is second to none.
Additionally, the kayak boasts a large open cockpit that provides paddlers with plenty of room to move around and a HiRise seating system. The seat is fitted in an ultra-high position to ensure you don't get wet in case there is water in the cockpit. This goes a long way to ensure you enjoy a comfortable ride especially during those long days on the water. In addition, you can even choose to fish or cast while standing.
On top of that, the kayak is fitted with a junk drawer under the seat to keep your gear out of the way but within an easy reach. In addition, it features a bow hatch that incorporates double-header hinges in case you would like to store your fishing rods and paddles inside the kayak. Other angling features include rod tip holders, Dry Pod with a through-hull scupper for the transducer, traction pads, and GearTracs.
5. BKC UH-TK 181 Tandem Fishing Kayak
Featuring 450lbs load capacity, this kayak has enough capacity to support two full-grown adults and plenty of extra gear. Needless to say, it is nimble enough to allow for solo paddling. Its stability and great tracking ability are enhanced with a 34-inch beam to keep you on course especially when water and wind act up.
When it comes to storage options, this is yet another area this kayak excels in. First off, it is equipped with a waterproof compartment where you can store items like keys, mobile devices and wallet dry and safe. On top of that, it comes with two paddle parks to secure your paddles so you don't lose them when not in use while at the same time allowing freeing your hands.
On top of that, it features a total of seven fishing rod holders with three of them being adjustable and the rest flush-mounted for convenience and stability. Besides, it is fitted with four carrying handles that boasts comfortable grip for ease of transporting the kayak. As if that's not enough, you will also receive two premium quality paddles made of lightweight and sturdy aluminum free with the purchase.
6. Vibe Kayaks Skipjack 90 Fishing Kayak
Vibe Kayaks is a reliable brand that has been in the kayak manufacturing industry for a very long time now. Their Skipjack 90 is a great budget-friendly option for beginners to advanced kayakers interested in a one-person kayak. At just 46 pounds, its lightweight design is perhaps its best trait. Not to mention, it is only nine foot long so you can easily handle it on your own. Besides, there are four carry handles that provide easy grip in case you would like to transport it solo or with the help of a friend.
The kayak is made of high-density roto-molded polyethylene for maximum durability. Therefore, it should be able to stand-up to mild wear and tear with extended use. In addition to this, it comes with tons of storage options including a large tank well at the rear with bungee straps. It is also equipped with two sealed hatches that feature bag inserts for storing extra gear within reach.
On top of that, the unit is fitted with four capped flush-mount for fishing rods as well as a mounting point for items like RAM, Vibe-mount accessories, and Scotty. Also included with the purchase are two paddle parks to secure your paddles thereby preventing loss overboard. Last but not least, the kayak comes with a deluxe seat with decent back support.
7. Vibe Kayaks Sea Ghost 110 Kayak
For the serious angler looking for a versatile fishing kayak, this kayak can be a great buy. It provides all the thrills of the Skipjack 90 and more which is why it is a bit expensive. Just like the Skipjack 90, the Sea Ghost 110 is also a one- person kayak made of single-piece roto-molded polyethylene for durability. It also comes with a built-in rudder system to ensure you don't end up using so much energy to paddle especially during long paddles and windy days.
Additionally, it boasts tons of storage compartments including a large tank well with bungee system at the rear and a spacious center console so you can bring just about anything on the water. Besides, there is a 20-inch oval hatch at the front that is within an easy reach for small items. There are also two flush mount holders for your fishing rods so you can bring multiple rods out on your expeditions.
The Sea Ghost 110 is fitted with a fishfinder transducer port alongside a protective lid and multiple mounting points. In addition, it comes with four built-in gear tracks that allow you to rig up your favorite accessories to the cockpit for a personalized look. Also, it features a dual-position hero seat to provide you with the best of stability as well as speed. However, at 62 pounds it's a bit heavy for a single person to carry.
8. Malibu Kayaks Stealth 14 Kayak
This is another incredible sit-on-top kayak that we cannot get enough of. Though a bit pricey, it is loaded with tons of features for those willing to make the investment. At 14 feet long, the kayak not only tracks well but also paddles with ease while at the same time providing unparalleled stability. It is also well made to offer you years of fun on the water plus it comes with a limited lifetime warranty.
In addition, it features a comfortable seating area that includes a foot track system which can be adjusted for maximum paddling strength. Carry handles on each side of the kayak also comes in handy for ease of portability. Further, it boasts nylon hooks and eyelets where you can attach your gear and other accessories.
Another feature worth noting is the four-rod holders included with kayak both at the front and the rear. It also comes with secure paddle holders and a cup holder so you can stay hydrated throughout all your trips on the water. At the rear, you will come across a tank well with bungee straps and a live-well 45-degree hatch with bag.
9. Sun Dolphin Boss SS Sit-on/Stand-on Top Angler Kayak
eMotion has a long line of great kayak products such as sit-on-top kayaks, canoes and sit-in kayaks to cater for the needs of nearly everyone. The brand is largely known for offering budget friendly kayaks without sacrificing quality. While they have several sit-on-top kayak models to choose from, their Spitfire Tandem 12' is our favorite option.
It features two in-built padded CRS Ultra-Lite seats with quick release seat backs for each occupant to provide superior comfort and support. In addition to this, it is fitted with molded-in foot wells to allow paddlers of various heights to use it along with foot bracing to secure your legs for efficient paddling. As if that's not enough, it comes with a tank well at the rear and cargo net lacing to secure your gear.
Further, the kayak is made of high-density and tough polyethylene to ensure it is able to hold up for many years with the proper care and handling. Needless to say, it is UV-protected to prevent it from peeling, fading or even cracked even when it's left out on the sun for a long time. And for added peace of mind about its durability, the manufacturer offers you five-year limited warranty.
10. Vibe Sea Ghosts 130 Angler Kayak
Although it is equipped with just two Hero seats, this SOT kayak can hold up to three people comfortably. This makes it a great family kayak for fishing and recreational. Nevertheless, the kayak can be used solo all thanks to the optional paddle position at the center. And for enhanced comfort, it features adjustable footrests that allow paddlers of all sizes to have a good time on the water.
In terms of storage, this is yet another area this kayak does not disappoint. It is fitted with four mounting points for different accessories including extra rods, Scotty and RAM. Also, included with the purchase are two flush mount holders for the fishing rods. Aside from that, it comes with a big bungee tank well on the rear, two sealed hatches and bow cargo bungee system.
Moving on, the kayak comes with a limited lifetime warranty that covers defects on all new units. On top of that, all the parts attached to the product are covered by one year manufacturer's warranty. This goes a long way to show how confident the manufacturer is about the quality of this kayak.
Buying Guide- Which Is The Best Sit On Top Kayak For You?
Sit-on-top kayaks have become more popular over the years because of their ease of entry and exit. As a result, there are a huge number of them on the market with each claiming to be the best. To help you find one that meets your needs, we take a look at some of the features to look out for to ensure you make a good purchase decision.
Generally, the storage space depends largely on what you plan to take along during your outing. If you will be carrying a lot of gear, be on the lookout for a SOT kayak with multiple storage options. But if you plan to carry just a few items like snacks, beverage, lunch and some clothing, a kayak with a large tank well is enough.
Some SOT kayaks come with tall seat backs while other shorter backs. Those with tall seat backs are more comfortable as they provide the paddler with incredible support for those long trips on the water. However, they normally restrict the ability to twist your torso. Shorter backs, on the other hand, are also comfortable but lack enough support.
If you feel better kayaking alone, then a one-person kayak is what you need. But if you like bringing along a friend or partner sometimes on your trips, a tandem kayak is the best option. You can also choose a SOT kayak that can carry up to three persons.
The longer the kayak, the faster it will be. However, shorter units are very easy to maneuver but slower compared to their longer counterparts. So if you prefer speed more than ease of maneuverability, consider going for longer kayaks.
Regardless of your personal preferences or skill level as a kayaker, any of these 10 sit-on-top kayak options would be a great choice. However, if you are a full-time kayaker and are willing to cough out a little more, we would recommend you go for the best sit on top kayak which is the Malibu Kayaks Stealth 14. It comes loaded with so many great features for the best experience out on the water. If the Malibu Stealth 14 is still out of reach for you, consider going for the Ocean Kayak Malibu Tandem which offers a pretty competitive deal.