Best Pontoon Boat Grills 2018 – Top 7 Review and Complete Guide
Nothing beats the feeling you get when you spend the day on a pontoon boat, grilling and enjoying the vast waters. Whether you are fishing exploring or just unwinding, a tasty meal will make every boating experience worth remembering.
For you to make delicious meals out in the water you first need to have a good quality pontoon boat grill. There are so many boating grills available in the market today, each with its own design, features and price. You just need to find one that matches your preference, suits your boat and can satisfy your cooking needs.
In this guide I review seven of the best pontoon boat grills to help you narrow down your choice to just one or two brands that impress you most. How about we start with a comparison table of the grills:
Choosing the Right Pontoon Boat Grill: A Complete Guide and Review
Top 7 Best Pontoon Boat Grills in 2018
#1: Magma Products A10-918-2GS Newport 2 Infra Red Gourmet Series Gas Grill
Made with 100% 18-9 stainless steel, this pontoon grill connects to portable gas tanks directly and easily. You can place the tanks on the floor to minimize the amount of space the grill set takes and increase your grilling space.
The polished finish, together with rounded edges, gives the grill an elegant look. And while that may be an attractive thing, it is the grill's performance in cooking that sets it apart from the rest.
It features a dynamic combustion system that sustains intense heat even when there are heavy winds.
The anti-flare infrared technology used accounts for the grill's ability to light easily and distribute heat evenly while at the same time reducing flare-ups. That, not only guarantees quick performance, but also safety for your boat and everybody on board.
You can observe the combustion system through the fitted viewing window. There's also a hermetically-sealed temperature gauge right by the viewing window, which makes it easy for you to track how much heat the grill is producing.
If you like your pontoon boat grill portable you will love the fact that the Newport 2 Infrared has foldable legs and weighs just 19.94 pounds. That's quite easy to move from one place to another.
With a cooking surface of 18 by 9 inches, this offering is one of the most popular pontoon boat grills for preparing mouthwatering steaks, fish and chicken wings.
Pros
check
check
check
check
check
Cons
#2: Cuisinart CGG-180TS Petit Gourmet Portable Table Gas
With this offering you get the quality of two renowned manufacturer's in one super amazing product. The grill itself is a Cuisinart but it has the famous Arnall's bracket set. It can mount on a boat's railing (particularly the 1.25 sq. inch type) very easily, providing you with a whopping 145 sq. inches of grilling space.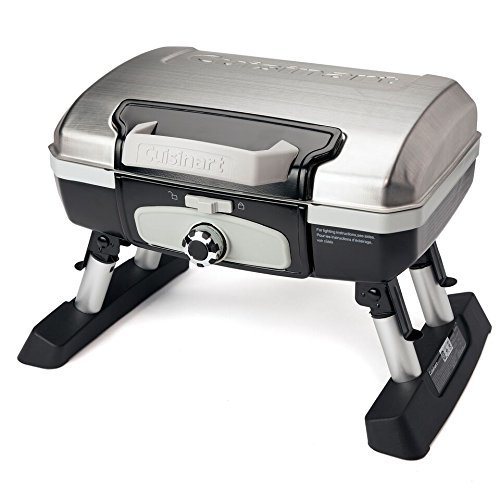 The bracket set features four mounting screws made of solid zinc. When you want to move or remove the grill simply unscrew the brackets and it will come off with ease. So basically you don't need to drill through the rails in order to mount this grill. And the brackets will not leave scratches on the rails either.
One of the things that make this Cuisinart one of the best pontoon boat grills is its portability. The grill alone weighs just 18 pounds, and 37 pounds when the bracket set is installed. It's quite easy to mount, prepare a tasty meal, dismount and store it somewhere else once you're done. There are handles that make it easy to carry.
Also, it is designed to get the cooking job done. First off, it has a quick ON/OFF function to save time, stainless steel burner for durability and a large cooking surface that can serve many people. That will come in handy when you have a fairly large party aboard your pontoon boat.
While the package comes as a complete set of the grill and brackets, you will need to purchase propane tanks separately. The grill has a dedicated mount for the propane tank at the back.
Pros
Cons
#3: Camco Stainless Steel Portable Propane Gas Grill
If you are looking for a boating grill that balances top notch functionality and an elegant design without inflating the price then this is it. Like most other Magma Products grills, the Marine Kettle A10-205 is made entirely of marine-grade 18-9 stainless steel. That is why it is durable and very easy to clean after use.
The grill distributes heat evenly across its highly efficient radiant plate, making sure that your food is well-cooked all round.
Operating the bowl is quite safe on account of the insulated lid that always stays cool.Still on the issue of safety, the grill has a specially designed and patented swivel turbo venturi tube that has a control valve. You can adjust the valve right, left, inboard or outboard; depending on how you have positioned the grill.
It uses standard 1 pound disposable propane canisters (bough separately) but can still attach to a regular LPG or CNG container, so in that respect you have a variety of options to choose from. In case you are wondering, changing the canister is very quick and safe thanks to the swivel turbo venturi tube and control valve.
Although this boating grill doesn't come with a mounting, Magma – the company that makes the grill – has a variety of mountings that you can purchase separately. If you have one you can then mount the grill to your boat's rail.
Pros
check
check
check
check
check
Cons
#4: Magma Cabo Grill, Adventurer Marine Series
This one is for all those who prefer a pontoon boat grill that burns coal or wood. With a cooking surface of 133 square inches, the Marine Kettle Charcoal Grill is made of 100% stainless steel and finished with a mirror-like polish.
The material not only makes it rust resistant but also ensures that it is an easy-to-clean grill, despite being a charcoal burner. As a matter of fact it cleans much like an oven. Simply use an oven cleaner to clear any burnt-on residue and a brass wire brush for the stainless steel surface. Using soapy water will help a great deal.
There's a charcoal grate as well as an ash compartment, both of which prevent debris and dirt from reaching the floor of the boat. You can adjust its height to a level that you are comfortable with. The fitted draft door allows you to control heat by regulating how hot or cold the coals can get.
Its bowl features a hinged lid that doesn't slam shut. It also has a plastic handle that remains cool even when the pot itself is thoroughly heated. You may want to know that while the default size of the grill surface is 13 inches, you can purchase a 15-inch surface for use when you have a larger party aboard.
The one and only downside to buying this pontoon boat grill is that it doesn't come with rail mounts. There are, however, plenty of attachment brackets that you can buy and make it a fully-fledged coal burning grill that can mount on your boat's rails. So overall it arguably takes the top spot in the best boat grills that use coal or wood.
Pros
Cons
#5: Cuisinart CGG-180T Petit Gourmet Portable Tabletop Gas Grill
A compact and portable gas grill, the CGG-180T Petit Gourmet from Cuisinart comes equipped with everything you need to make burgers, steaks, chicken breasts and fish on your pontoon boat.
With a grilling area of 145 sq. inches, this grill features a stainless steel burner, aluminum legs and porcelain enamel grate. It has a BTU of 5,500 and, despite its relatively small cooking surface, distributes heat evenly to ensure that your meals cook properly.
This grill uses propane gas. Compared to most other options in the market, it heats up very quickly and is impressively economical with the amount of gas it requires to cook meals.
The folding legs make it even better for outdoor use. You can practically fold the whole of it into a briefcase design and even use the handle to carry it from your house to the boat or vice versa. Even better, it weighs a total 13.5 pounds, which makes it one of the best grill for portability.
Other beneficial features include a lid latch and drip tray that is spill resistant. It's worth noting that you can cook with the lid down. Some grills don't allow that, so it's an added advantage that comes with the CGG-180T Petit Gourmet.
Pros
Con
#6: Coleman Camp Propane Grill
The Coleman Camp Propane Grill is a budget grill that offers some very amazing features. For starters, it is designed with exclusive technologies.
The Wind Block panels fitted are responsible for shielding the grill's burners from wind. That's an important addition considering you will be using it out in the water where the conditions could be windy. You can also fold and use them as side tables.
Speaking of weather conditions, the PerfectFlow technology acts as a type of weatherproof feature and ensures that the grill performs optimally regardless of the prevailing weather conditions. You can practically use it when it is extremely hot or extremely cold and it will still make the meal you want.
Finally, there's the PerfectHeat technology that gives this pontoon grill its efficiency in terms of fuel consumption. While it boasts a whopping 11,000 BTU, it actually uses very little propane gas to make meals.
The Coleman Camp Propane Grill also features a porcelain-coated grate and tray that clean easily even when they have food spillages. Not that you should be worried about food spilling anyway because you get 180 sq. inches of cooking space. That's definitely enough operating room to prepare a meal and leave the grill tidy.
Pros
check
check
check
check
check
Cons
#7: Coleman NXT Lite Stand Up Propane Grill
This makes a great choice for all pontoon boat owners who like their grills versatile with a large cooking area. It offers 190 square inches of cooking space, which is a lot more than what you will get in other grills. That makes it ideal for preparing large cookouts.
The lid doubles as a griddle that measures 130 sq. inches. You can use it to prepare tasty hamburgers, eggs or bacon for breakfast.
The grill itself has a 1200 BTU rating and is more than capable of grilling steak, chicken wings, fish and lots of other typical boating foods. It uses the standard 1-pound propane tank.
Other than its cooking capabilities, the Springfield Deluxe also boasts of top-notch physical features. It is compact and well-sized to allow you get the most out of the little space it occupies rather than using up unnecessary space on the boat.
The included 29-inch mounting post holds the grill firmly in position. But you can dismount and either use it as a tabletop grill (if you have a surface on the boat) or move it somewhere else for storage or
alternative use (like when you are going camping).
Pros
Cons
Buying Guide – How to Choose the Best Pontoon Boat Grill
Choosing the best pontoon grill may seem simple until you actually try it. There are so many brands in the market, and each one has some unique features to offer. Your task is to narrow down the options to just one that will meet your needs. How do you do that? Here are the factors to consider:
Size of the grill
Make sure the size of pontoon boat grill you choose matches your intended use. You want a grill that can prepare meals for everybody on the boat without taking up too much space. Ideally, one with a grilling area of at least 130 sq. feet should be reasonable.
The construction
This 7 pontoon boat grills are sturdy, rugged and durable so that they can offer many years of grilling. Those features are mostly determined by the materials used. In that regard, nothing beats stainless steel. It is strong, durable and easy to clean. So make sure your grill's main body is made of stainless steel. Other parts like brackets and lids don't usually matter much, but an equally good material like aluminum or brass would make the whole package worth your utmost consideration.
Mounting
If you can get a grill that comes with a mounting set that would be great. It will increase your grill positioning options, especially if the mounting gear can be attached to the rails. Furthermore, grill mountings offer stability even in turbulent waters. It is worth noting that you can still purchase the bracket set separately from the grill itself. There are some very reliable options available.
Portability
This is yet another feature that is pontoon boat grills have in common. You don't want a grill that is stuck in one position. It would be best if you can dismount it and move or store it when it is not in use. Typically, the smaller and lighter a grill is the more portable it is. But don't focus too much on size and forget that you also need it to prepare adequate meals for everybody on board.
Versatility
Can the grill be used in other situations that don't necessarily involve boating? If yes then it is worth your consideration. For instance, it would be best to get a unit that can be used while boating, camping and during an emergency survival situation. That way you won't be forced to by different grills for different situations.
Warranty
Manufacturers of the pontoon boat grills will not shy from offering after-sale guarantees. The longer the warranty, the better because it is proof of good quality. Also, make sure that warranty covers the whole grill or at least the most important and expensive parts.
Final Thoughts
All the seven grills above make this list because they are in fact the best pontoon boat grills in the market. If you buy any one of them it will serve you well.
Having said that, your most ideal choice depends on very particular factors like the size of your boat, your budget and how many people could be aboard the boat at any given time.
If you have enough space and are planning to entertain fairly many people you may want to consider a large unit like the Springfield Deluxe Propane Grill. But if you are on a limited budget perhaps choosing an entry-level grill like the Cuisinart CGG-180T Petit Gourmet or the Coleman Camp Propane Grill makes more sense.
In case you value performance and functionality over everything else you could go for the Magma A10-918-2GS. It is arguably the best-performer. Basically, that is to say regardless of your budget or preference, there's a pontoon boat grill that will match your needs perfectly.