Just in case you hadn't noticed, kayaks are everywhere. Since the rise in popularity of inexpensive recreational kayaks several years ago, it seem everyone owns one. That's not a bad thing. Kayaks are a great way to get out on the water and get a little exercise while you're at it. Whether it's catching a wave with a sit-on-top ocean model or paddling down your favorite river in a fishing kayak, kayaking is fun.
Of course, it didn't take fishing enthusiasts long to discover kayaks and some advantages they offered their sport. Freshwater or salt, big game fish or bluegills, fishing kayaks are now available in a slew of different sizes and configurations, and there's sure to be one designed for the fishing you do. And, like their recreational cousins, there's one to fit any budget. So keep reading to learn more about fishing kayaks and which ones we think are best.
What Is A Fishing Kayak?
Image from Amazon
The definition of a kayak is a small, narrow watercraft which is propelled by a double-bladed paddle. A fishing kayak is simply one of those that's been outfitted for fishing. OK, maybe there's a little more to it, but not much. There are two basic types of kayaks: the traditional sit-in kayak and newer sit-on-top varieties.
Sit-in Kayaks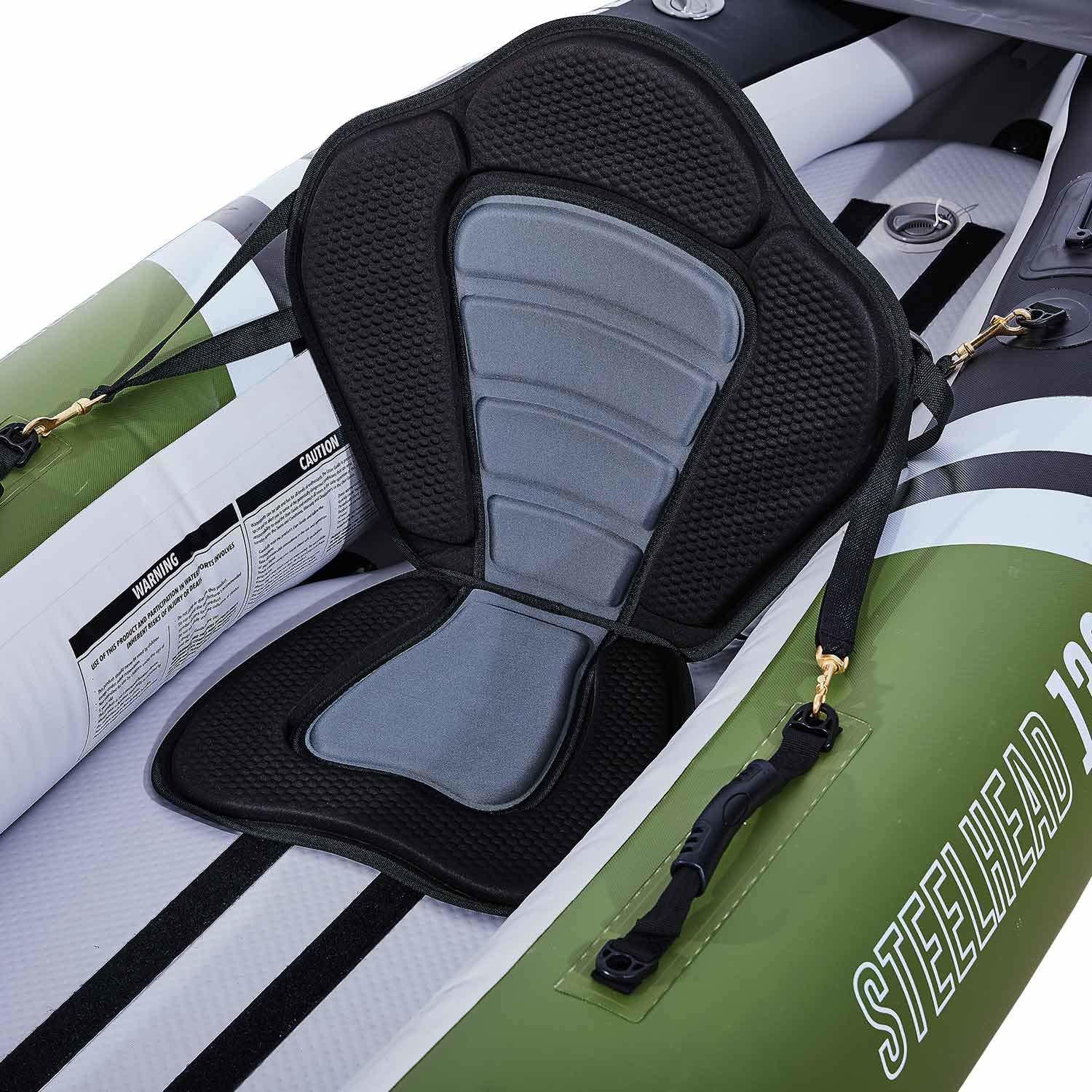 Image from Amazon
These traditional kayaks consist of a hollow hull with a large hole in the deck where the paddler sits. They're great for paddling whitewater or touring. The fact that you sit in a "cockpit" means you'll have a little protection from wind and that you're less likely to get wet while paddling.
Sit-On-Top Kayaks
These are more user-friendly, especially for fishermen. They're stable and offer easy access. They also have scupper holes that allow the water to drain right through them rather than collecting inside. Other advantages of sit-on-tops is that you can get on and off them easily, and they can be rigged so that things like fishing poles are within easy reach.
Image from Amazon
Features To Consider Before Buying A Fishing Kayak
Image from Amazon
The most important consideration should be where and how you fish. Will you be fishing in freshwater or saltwater? Navigating streams and rivers or paddling around saltwater inlets and estuaries? Will you hit the open ocean by launching from the beach or dropping in from a larger vessel? There is no one-size-fits-all fishing kayak. Here are a few things to think about.
1. Propulsion
Traditionally, kayaks are paddled, and this is still the most popular way to get around in one. But pedals are becoming more popular. This is a feature popular with some anglers because it frees the hands for fishing and saves energy by using your stronger leg muscles to get around. Kayaks with a pedal/propellor combination and those with electric motors are also hitting the market.
2. LENGTH
The longer the kayak, the faster it will travel through the water, which will increase your range. But there is a loss of maneuverability with extra length, affecting fishing in tighter spots and small bodies of water. A longer kayak is also more difficult to transport and heavier to carry.
3. WIDTH
The wider the kayak the more stable it will be, and it will have a greater capacity. The downside to width is that the kayak will be harder to paddle in a straight line.
4. WEIGHT
In most cases, the lighter the better as long as you don't sacrifice sturdiness and stability. If your kayak is too heavy, you will need a carrier (a potential extra expense) to get it to the launch site.
5. STORAGE
This is a biggie for fishermen. Is live-bait storage important to you? Will you be doing any kayak-camping? How about rod holders, tackle storage and room for food and drink?
6. SEAT
These range from molded-in seats and thin, adjustable seating pads in basic kayaks to adjustable chair style seats with good back support in more expensive models.
7. THE ABILITY TO STAND UP
Some kayaks are wide enough to provide stability for fishermen to stand and cast if that's something on your need list.
Our 10 Best Fishing Kayaks
Now that you've done your research, figured out your budget and kicked the tires on a few models in the sporting goods store, it's time to choose your fishing kayak.
Hobie Mirage Pro Angler 12
No products found.
Using Hobie's MirageDrive 180, this pedal-powered kayak is suitable for fishing freshwater or salt. It's four horizontal and two molded-in rod holders allow you to have six rods rigged and ready to go. There's plenty of stability to stand and cast and the elevated Vantage ST seat makes it easy to move around. New features include a retractable skeg for improved navigation and the innovative H-Rail for improved accessory rigging.
Pros
All day comfort for serious anglers

Versatile enough for all kinds of fishing

Large capacity for fisherman and gear
Cons
Too heavy to carry or for rooftop transport

Expensive
Native Watercraft Titan Propel 10.5
No products found.
The Titan 10.5 model is a new smaller offering that allows for easier transport while keeping most of the features from Native's larger model. It has gives the angler a solid platform for fishing, horizontal rod storage, and elevated seating for comfort and ease in transitioning from sitting to standing. The Propel Pedal Drive System provides hands-free forward and reverse and there is a transom-style motor mount.
Pros
Quiet pedal propulsion

Available motor mount

Choice of four colors
Cons
The rudder system has had durability questions

Not the most expensive, but still pricey
Vibe Yellowfin
No products found.
A great choice for beginners, the Yellowfin gives you a good combination of craftsmanship and price. It's one of the lighter options on the market, making it easy to load and carry. It includes four mounted rod holders, paddle holders, and four carry handles. There are two sealed storage compartments with bag inserts, a rear well with bungees for larger items, and a comfortable seat.
Pros
Inexpensive for a fishing kayak

Lightweight

Surprisingly stable
Cons
Not built for speed

Quality of materials vs more expensive brands
Feelfree Lure 11.5
The Lure 11.5r is a great kayak for kids and smaller anglers. It comes equipped with molded handles, recessed fittings, and the patented Wheel in the Keel for portability. It offers great stability and efficient tracking with its tri-hull design. It weighs just 42 pounds, easily the lightest on our list, making it easy to transport and launch.
Pros
Very lightweight

Lightweight
Cons
Lacks the features of more expensive models

Short length affects tracking
Perception Pescador Pilot
With its new Flex Drive system, the Perception Pescador Pilot now gives the angler hands-free propulsion along with forward and reverse operation. It also has an articulating system for deep and shallow water navigation. A protected tri-blade propeller helps keep the system clear of obstacles and easy to clean. Its wider-than-average platform provides good stability.
Pros
Pedal/propellor propulsion system

Excellent fishability

Tight turning radius
Cons
Expensive

Rudder takes getting used to
Old Town Topwater 120
The Topwater 120 is extremely stable and allows for standing, sight-casting, and fly-fishing on a 20-inch wide deck. Is customizable to go from solo to tandem, allowing you to position the seats any way you like. The deck layout is also flexible.
Pros
Very high capacity-to-weight ratio

If going solo, can handle a lot of gear

Moderately priced
Cons
Not fast

Not a lot of covered storage
Hobie Mirage Outback
This fishing kayak provides a stable platform using a beamy design. It also has Hobie's comfortable Vantage CT seat and MirageDrive 180 that allows reverse propulsion by pulling the shift cable to pivot the fins 180 degrees. Has six rod holders, four horizontal and two vertical.
Pros
Comfort

Powerful forward and reverse propulsion

Good amount of storage
Cons
Not quite the capacity of some others on our list

Expensive
Old Town Predator 13
Engineered to be a fishing machine, the Predator series can tackle everything from small lakes to open ocean. It features a slip-resistant deck and comfortable Element Seating System. It's a nice mix of features at a reasonable price.
Pros
Moderately priced for what you get

Comfortable enough for long days

Well built
Cons
Not the fastest boat

Some on our list have a few more features
Pelican Saber 100X Angler
The Saber is built on an efficient twin-arched, multi-chine hull. It features adjustable footrests, knee pads, and an Ergoform backrest. Swivel and flush-mount rod holders and a tank well with bungees keep fishing gear in place while moving. Its impact-resistant material is built to take a beating and will last.
Pros
Great price

Lots of features for the money

Very lightweight
Cons
Smallest capacity of any on our list

Not suitable for ocean fishing
Wilderness Systems Radar 135
This fishing kayak is tri-powered. It can be paddled, powered by the Helix MDTM Motor Drive, or pedaled with the Helix PDTM Pedal Drive. The Radar's proprietary S.M.A.R.T. Hull Technology gives maneuverability, acceleration and stability for solid performance in any conditions. It provides good stand-up stability without increased width.
Pros
Works well under all power options

Good acceleration

Moderately priced
Cons
Construction quality issues reported

Not the best for open ocean fishing
Conclusion
Kayak fishing is exploding in popularity for a reason. It's fun, and maybe more importantly, it's an effective way to get to the fish. All of these fishing kayaks we've listed are capable of putting dinner on the table. Put in some time learning about these boats, go kick the tires on a few and then go get yourself one of these fishing machines. Imagine the tales you'll be able to tell.
Last update on 2023-09-25 / Affiliate links / Images from Amazon Product Advertising API