Best Kayak Paddle For Fishing 2018 – Guide & Reviews
Kayaks paddles have a lot going on which is why, picking out the perfect one for your fishing needs can be quite challenging and confusing. And therefore, we are dedicating our article today into finding the best kayak paddle for you.
We are on a mission to get you the best of the bests. In addition to handing down a smart and comprehensive buying-guide, we will furthermore provide you with review of some of the best selected paddles for you to choose from. We have a lot to cover so let's get started!
Top 5 Best Kayak Paddle on the Market in 2018 – Comparison & Rating Chart
| Rankings | Kayak Paddle | Weight | Dimensions | Editor's Rating |
| --- | --- | --- | --- | --- |
| #1 | | 3.8 pounds | 84″ and 96″ | |
| #2 | | 1 pounds | 84″ and 96″ | |
| #3 | | 3.4 pounds | 44 *6.75*1.75 inches | |
| #4 | | 2.35 pounds | 96.5 * 6.83 * 2.1 inches | |
| #5 | | Not Specified (light weight) | 84″ and 96″ | |
1. SeaSense X-Treme II Kayak Paddle
We will kick start our list of the best paddles for fishing with the X-Treme II paddle from SeaSense, which is 84 inches long from tip to tip.
First of all, what you need to know about this kayak paddle is that it is a 2-piece paddle. This means the X-Treme II is going to be great for storage and portability as you can snap it into half. It utilizes a feathered blade design since it has its blades in different planes. The X-Treme II would great for paddling on windy waters due to its high resistance blade design. In addition, to have adjustable drip guards to prevent water wetting you and the paddle's shaft and support ridge for strong grip.
In addition, the X-Treme II has 3 locking positions to seal your favorite and most comfortable style for paddle. Furthermore, due to its high quality material, it will float on water in case it slip away from your hands.

What We Like
Is a 2-piece
​Strong aluminum construction
​Great for preventing user fatigue
​Has drip guards
Offers 3 locking positions
Does not sink into the water
What We Didn't Like
Haft trends to bend in rough, strong waters
2. SeaSense X-Treme II Mix Kayak Paddle
Back on our list, next one is the X-Treme II series, but this one comes with a twist. It is the X-Treme II Mix kayak paddle. And it's one of the best kayak paddle under $100.
The X-Treme II Mix is 84 inches long, is a 2-piece paddle has feathered blades. And we know how precious 2-pieces can prove when it comes to travel and storage. The X-Treme II Mix has adjustable grip guards, support ridge for extra hold and offers you 3 locking positions.
It also floats on water so you never have to worry about losing it to the deep blue.

What We Like
Is 2-piece
​Has adjuatble drip guards
​Feature supports ridge
Offers 3 locking position
Floats
What We Didn't Like
The blades are too flexible
Many customers complained of the paddle snapping in half in tough waters
You may love to check out our others articles on kayak and others fishing accessories like: fishing headlamp, reels under $30, fish finder, fishing baitcasting rods
3. SeaSense X-1 Kayak Paddle
Next, we yet again have another 82-incher from Seasense on our list of the top 5 selected kayak paddle with the X-1 paddle.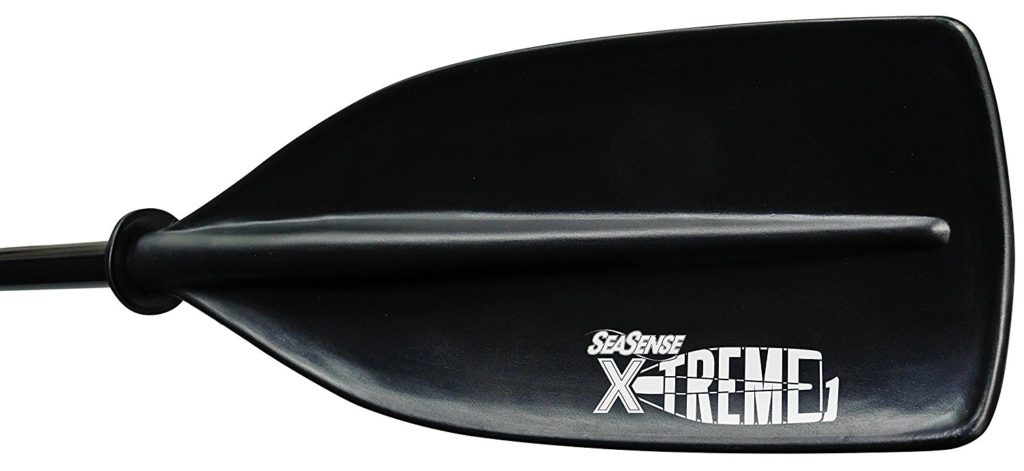 This kayak paddle isn't all that different from the X-Treme II. It is also a 2-piece paddle, has adjuatble drip guards and floats on water too.
What makes it different however is that is has plastic guarded blades and has foam rubber grips for comfortable paddling. However, the starkest difference has to be that the blade angles on the X-1 are adjustable giving you maximum control.
What We Like
Is 2-piece
​Strong aluminum construction
​Adjustable drip guards
​Has rubber foam grips
Floats on water
Adjustable blades
What We Didn't Like
Gets water in despite having drip guards
The foam grips loosens up from water and moisture
Heavy
4. Shoreline Marine Kayak Paddle
If you are looking for a paddle slightly longer than our 84-inchers than the next contender on our list, this lightest kayak paddle can be the best option what you are looking for. It is the Marine Kayak Paddle from Shoreline.

This kayak paddle is uses an aluminum shaft and has contoured, molded blades which offers you 3 position settings. It is technically a 2-piece but you can't snap it in half; it separates into 2 different pieces instead.
And as usual, you have drip guards and foam grips as well.
What We Like
Is 2-piece
​Uses an aluminum shaft
​Is long; great for taller paddlers
​3 positions system
Has drip guards
Features foam grips as well
What We Didn't Like
5. Shoreline Marine Propel Motion Kayak Paddle
And the final contender to make it to our list of the kayak paddle for fishing is the Marine Propel Motion Kayak Paddle from yet again, Shoreline.
This paddle is also a 2-piece per se since it separates into 2 instead of snapping. It separates with the help of a push button mechanism; similar to the Marine Kayak Paddle from Shoreline as well. The blade angles are feathered and offer you 2 changeable angles as well.
Furthermore, the shaft obviously has soft grips and drip guards as well.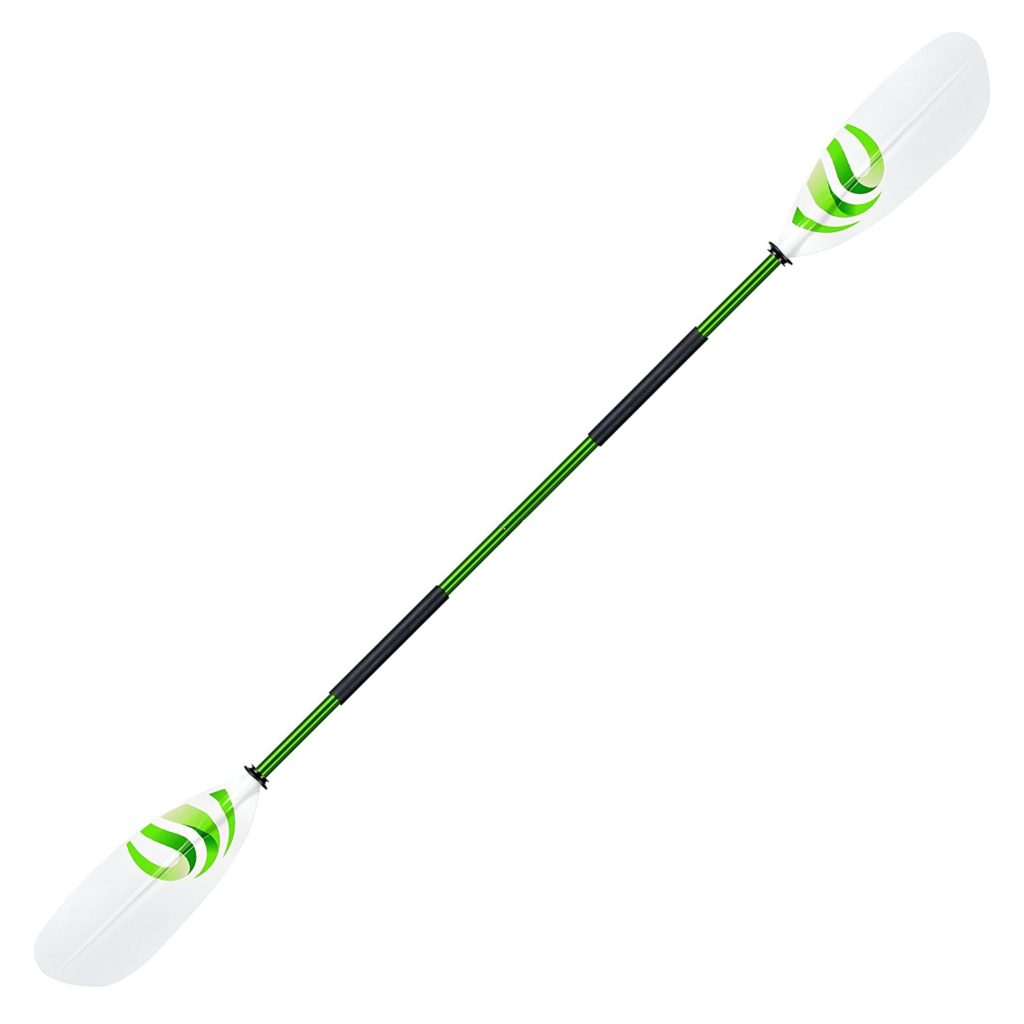 What We Like
Is lightweight
​Is 2-piece
Changeable blade angles
What We Didn't Like
The grips slips when in contact with water
Factors to Consider When Choosing a Kayak Paddle For Fishing
1. Material
Material matters, especially when you are about to use it in water, against currents for hours.
The most common materials to be used in making paddles are wood, fiberglass, carbon fiber and metal. However, recent kayak paddles use high quality, durable aluminum body, or sometimes just aluminum shafts only. Furthermore, coats or molds of plastics layers the blades of the paddle.
2. Height and length
The height of the paddler, which is you, is VERY important when choosing a kayak paddle. Your height will decide the length of the paddle you should and should not get. Get the wrong size, and you will compromise balance and comfort the worst way possible.
To begin with, you may want to choose a low-angle paddling style since it's for fishing. Do not get too aggressive and wear yourself out, buddy. Now, let's look over your height. The rule of thumb is that the taller you are, the longer your paddle should be.
For instance, if you are less than 5 feet tall and the width is less than 23 inches, you may want to choose a paddle that is 210 cm.
If you are somewhere along the lines of 5.5 to 6 feet tall with boats width of around23 inches, go for a 220 cm paddle
Similarly, so if you are over 6 feet tall, go for a paddle that is 220 cm in length.
However, the width of your kayak should also be taken into account since it also manipulates and decides the length of paddle you should get. The higher the width, the long the paddle; simple!
3. Feathered and non-feathered
These two terminologies are something you are going to come across a lot in the process of picking a kayak paddle so note them down. These two terms denote the angles of the blades on your paddle.
A non-feathered paddle is where the blades of your paddle are position symmetrically so basically, they are in the same angle, and faced the same way.
And, a feathered paddle is where the blades are not in the same plane. In other words, they are each offset at an angle. The plus sides to using feathered blades are that they are more resistant to windy or rough waters and induce less wrist fatigue. Keep in mind that the best paddle will be able to give you the power to adjust the angle, or at least enjoy several adjustable positions.
4. Pieces
Little did you know that oars and paddles now come in forms that let you snap or break it in pieces so that you can easily travel with it, carry it around and store it.
Not that this feature is all that too important but it really does help. Most commonly, you will find 2-pievce paddles that snap in half, but you could easily come across ones that disassemble to 2 or more pieces too!
5. Grip and guards
The small details matter a lot since they are going to guaranty your comfort throughout the use and in the long-run.
Look for grips that aren't too hard; soft and squishy rubber or foam grips are the best. As for the drip guards, these help the water going all over the place. Adjustable drips guards are doing the rounds now so look out for them.
Last Words
Fishing season is around the corner and we have put down everything you need to know in order to ace the right kayak paddle on your demand. Read through and try to follow our straight-forward buying-guide so that you know what to get the next time you're in the store. And if you want to cut to the chase, then head right ahead to 5 of our top picks for the best kayak paddle for fishing to find your one of fishing partner.
And with this, it's a wrap to our little class today. Hope you enjoyed reading so far, and for any additional details click on the product link of each review. Good luck!