Professional anglers have long known that the reels one uses are equally important as his or her experience and the lures in one's tackle box. Among experts, intermediates, and even novices, we all more or less share a common goal: to catch as many quality fish as we can during our fishing trips. Shimano has long provided anglers everywhere with the quality equipment required for success out on the water. In carrying on this commitment, we have selected the top eight Shimano reels for comparison.
Product FAQ
Image Via pixabay
1. What Are Shimano Reels?
Shimano reels are a brand of high-quality fishing reels suited for both fresh and saltwater fishing.
2. What Are Spincaster Reels?
To operate a spincasting reel, just lift up the bail, hold the line against the rod with one finger, cast, close to bail, and reel the lure in. Compared to baitcaster reels, the simple functionality of the spincaster makes it a great reel for beginners. Because these reels do not exert any drag restriction upon the lure when casting, spincasters are great reels for casting light lures long distances. In addition, spinning reels are also popular because they pose no risk of 'backlash', unlike baitcasters.
3. What Are Baitcaster Reels?
Baitcaster reels, in contrast, allow anglers to cast lures with a high degree of accuracy. Unlike spinning reels, the drag resistance mechanism in baitcaster reels enable an angler to cast with greater precision because the angler can thumb the extending spool line during casting.
The downside of the baitcaster, unfortunately, is that inadequate application of thumb pressure during casting can cause 'backlash', a phenomenon whereby the line on one's spool becomes almost inextricably tangled. While improved casting precision is desirable, the 'backlash' phenomenon, which can be time-consuming to resolve (sometimes to the point of ruining a fishing trip) makes baitcasters recommended only to well-experienced anglers.
4. What Are Spools?
Spools are the region of the reel around which excess line is wound. Spools are important because their design and elemental composition affect reel smoothness and casting distance. While most spools on the market are made of some combination of aluminum and graphite, the highest quality spools, which are the lightest, are made from pure graphite. But aside from the benefit of weighing less, graphite spools also achieve better overall performance. For instance, graphite spools perform much better under pressure, unlike aluminum spools, which are particularly prone to rigidity in such situations.
5. What Are Reel Bearings?
Smoothness is determined in proportion to the number of ball bearings built into a reel. More ball bearings also help to extend the longevity of a reel by distributing (instead of concentrating) wear and tear. Furthermore, high-quality ball bearings, in addition to increasing overall efficiency, also improve the durability of the reel.
6. What Is a Drag System?
When a fish is hooked, drag systems work to mitigate the risk of line breakage by giving the struggling fish extra line during the reeling process. A high-quality drag system is important because it serves as insurance against losing a fish due to line breakage.
7. Where Can One Purchase Shimano Reels?
Shimano reels can be purchased at several retail stores across the country. While available on Amazon, Shimano reels are also sold at places like Cabela's, Bass Pro Shops, and Dick's Sporting Goods.
How We Reviewed
Our review is based on consumer feedback from both professionals and recreational anglers. The criteria according to which these eight Shimano reels were considered involved an examination of their manufacturing materials, weight, handling, smoothness, construction efficiency, durability, and user comfort.
What We Reviewed
SHIMANO THUNNUS CI4

SHIMANO STRADIC HG

SHIMANO Curado E

SHIMANO Stella FI

SHIMANO Sahara

SHIMANO Syncopate

Shimano Spirex RG

SHIMANO Sienna
Features
The Shimano Thunnus C14 is a spincast reel available in two two gear ratios. The 4.8:1 version is available in three separate models, all three of which have 6+1 ball bearings. The TU4000CI4 model has a 15 Lbs. max. drag capacity, weighs, 12.7 oz., has 30 inches of recovery per revolution, and has a 12/160 line and 40/145 braid capacity. The TU6000CI4 model is slightly more powerful, with a 20 Lbs. max. drag, weighs 18 oz., has a 20/120 line and 65/130 braid capacity, and 35-inch recovery turn.
The last of the 4.8:1 gear ratio models is the TU8000CI4, and has a 20 Lbs.max. drag, a 36-inch revolution turn, weighs 19.4 oz., and has a 20/195 line and 65/180 braid capacity. The Shimano Thunnus C14 is also available in a 4.4:1 gear ratio. This model (TU12000CI4) has a 25 Lbs. max. drag, weighs 27.7 oz., has a 20/265 line and 80/230 braid capacity, and an impressive 37-inch turn revolution. Simply put, the Shimano Thunnus is the quintessence of a fishing reel that embodies efficiency, durability, and power while also retaining the light weight necessary for ensuring great comfort, smoothness, and handling.
Warranty
Warranty not listed on Amazon.
PROS
Durable

Powerful

Efficient line-management

Smooth

Versatile
CONS
Gear may start to grind if the reel is cared for properly
Shimano Stradic C3000HG STC3000HGFK Compact Spinning Fishing Reel With Front Drag
The stradic spinning reel utilizes shimano's latest technology while also drawing on ways of the past and every part has been designed to improve the...
X-ship technology provides improved gear durability and eliminates friction between the spool shaft and gear enhancing the casting performance and...
Incorporates shimano's flagship hagane gearing and hagane body that provides long-lasting; strong; and durable performance and smoothness giving...
Features
The Shimano Stradic HG is a spincast reel equipped with a 20 lbs. max. drag capacity and a 35-inch revolution turn. Unlike other reels, the Shimano HG embodies 'Hagane', which is a term Shimano uses to describe a new generation of reels made from high-quality steel. Informed in its totality by Hagane, the Stradic HG is built for strength and durability. The Stradic HG also uses Shimano's X-Ship gearing system, which aside from working to sustain gear performance long-term, also creates smooth transfers of pressure, which is vital for success in high-stakes situations.
Known for its silky-smooth drag, the Shimano Stradic HG remains a favorite among anglers.
Warranty
Warranty not listed on Amazon.
PROS
Ultra-smooth drag

Durable

Efficient pressure transference system

Easy handling
CONS
Reel is heavier than other models

May be expensive for some anglers
Features
The Shimano Curado E is a baitcast reel that is well-regarded among anglers for its easy use and consistent performance. In contrast with previous models, Shimano has innovated the Curado E by updating its centrifugal system, which results in more consistent control over the spool during casting. One feature that is emblematic of its user-friendliness is its dial system, which is located toward the bottom of the front side-plate. The Shimano Curado E is a great choice for those who want the power to catch large fish but do not want to spend too much to do it.
Warranty
Warranty not listed on Amazon.
PROS
Can cast long distances

Comfortable

Very smooth

Easy casting

Lightweight
CONS
Some have experienced brakes slowing down
Features
The Shimano Stella is widely known as one of Shimano's best products. Unlike other reels, the Shimano Stella includes gears with small teeth. The result of this additional feature is more torque, power, efficiency, and enjoyment for the angler. The new S-Direct drive system connects to dive gear, which increases efficiency and mitigates the wear and tear on the reel's most vital parts. In contrast with previous models, the new Shimano Stella benefits from new innovations in engineering technology that are designed to reduce reel movement, thus improving overall handling and smoothness.
Weighing a mere 7.8 oz., the Shimano Stella is a spincast reel that embodies the highest standards of durability, efficiency, and industrial excellence.
Warranty
Warranty not listed on Amazon.
PROS
Lightweight

Efficient

Made from high-quality materials
CONS
Features
The Shimano Sahara is a spincast reel with a graphite side plate, frame, and rotor. With its cold-forged aluminum spool, 4 bearing system, and slow oscillation system, it is clear that the Sahara is made for quality performance. Compared to other Shimano reels, the Sahara is a great option for those who desire a high-quality reel for a low price. Moreover, weighing in at only 7.2 oz., the Sahara is designed to remain comfortable for anglers who spend hours at a time out on the water. Silky-smooth and equipped with a water-resistant drag system, the Sahara is a difficult purchase to regret.
Warranty
Warranty not listed on Amazon.
PROS
Capable of handling large fish

Innovative design is fatigue-protectant

Versatile

Affordable
CONS
Some users have experienced a malfunction whereby the reel becomes difficult to turn
Features
The Shimano Syncopate is a spincast reel with a graphite frame and a Quickfire II drag system that is superior to competing brands. Its propulsion line control system is made for efficiency and speed and its propulsion spool lip makes it easier for anglers to cast longer distances, especially in windy situations. Overall, the Synopate is an affordable spincast reel that will last a long time if attended to with proper care.
Warranty
Warranty not listed on Amazon.
PROS
Lightweight

Efficient ball bearings

Sealed to prevent unwanted contaminants from getting inside the reel and causing damage/corrosion

Affordable
CONS
Sometimes wobbles, but some users claim that this depends on how the reel is used
Features
The Shimano Spirex RG is a 6.2:1 spincastreel that weight 9.9 oz. The Spirex is equipped with innovative reel technology, such as a propulsion line management system, a Quickfire II drag system, and a variable speed oscillating system. Lightweight and capable of handling large fish, the Spirex RG is easy to operate. With its stainless steel ball bearings, the Spirex RG is built for performance and longevity.
Warranty
Warranty not listed on Amazon.
PROS
High-quality rear-drag system

Cold-forged aluminum spool

Lightweight

Rubber grip handles
CONS
Not recommended for beginner

Expensive
Features
While the Sienna is low-priced, this spincast reel can catch small and large fish both in freshwater and in saltwater. Made of lightweight metal, the Shimano Sienna is a great choice for anglers prone to fatigue while spending long hours on the water. In addition to functioning smoothly and efficiently due toits instant-reverse ball bearing system, the Sienna's propulsion line control system is designed for casting long distances.
As for its manufacturing quality, the Sienna fails to disappoint. While the frame is made of both graphite and aluminum, and the spool pure aluminum, its rotor and side-plates are made of 100% graphite.
Warranty
Warranty not listed on Amazon.
PROS
Lightweight

User-friendly

Versatile

Easy Maintenance
CONS
Some users consider the reel too small
The Verdict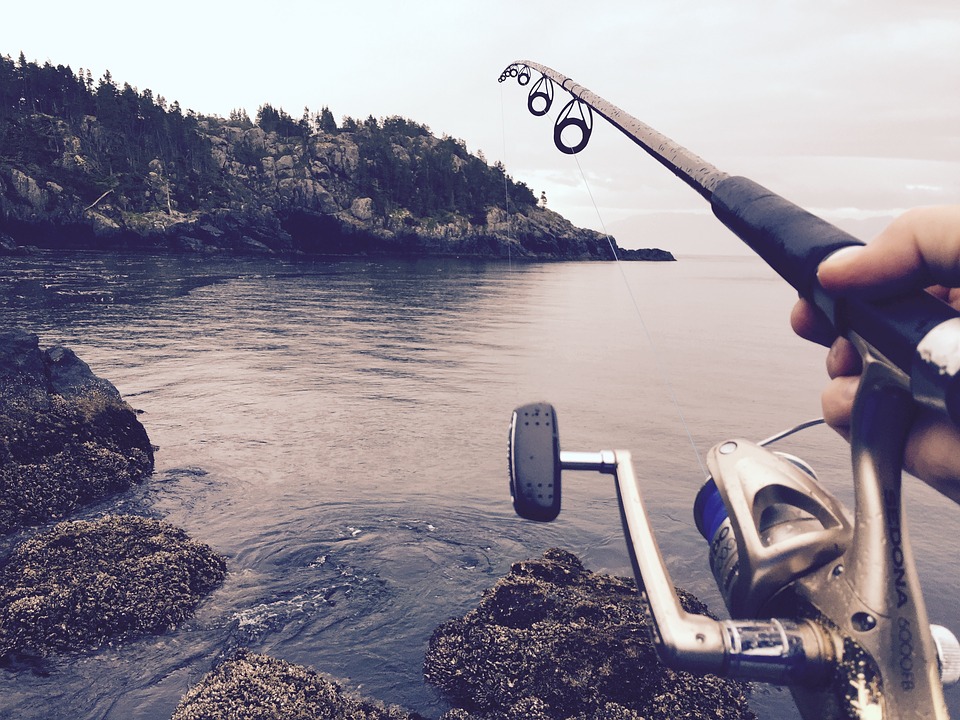 Image Via pixabay
In finishing, we would like to demarcate between two categories under which conclusions regarding the best Shimano reels are drawn.
The first category concerns the Shimano reels best suited for professionals, or any anglers who have undergone several years of serious fishing experience. Accordingly, we think that the Stradic and Spirex are the two best Shimano reels on the market for seasoned anglers. We find the Stradic to surpass the Spirex in terms of quality for the price. While the Spirex may be made from materials higher in quality, the value obtained in the price difference between buying the Spirex over the Stradic seems to lack reasonable justification. Though cheaper, the Stradic gives the buyer better value for the price than does the Spirex.
The second category pertains to the Shimano reels best fit for fishing novices or those with a spending budget. The best Shimano reels for such anglers include the Shimano Sahara and the Shimano Syncopate. While both of these reels provide buyers with a good product that costs less than $100, we find the Sahara to be a better choice than the Syncopate. We base our conclusion on the substantial gains in the $50 difference between the Synopate ($30) and the Sahara ($80).
Making this extra investment to purchase the Sahara will get you a worthwhile enhancement in reel quality: from efficiency, durability, and power, to comfort, smoothness, and handling, the Sahara is a great user-friendly spincast reel that both professionals and beginners will enjoy.
Last update on 2023-12-09 / Affiliate links / Images from Amazon Product Advertising API